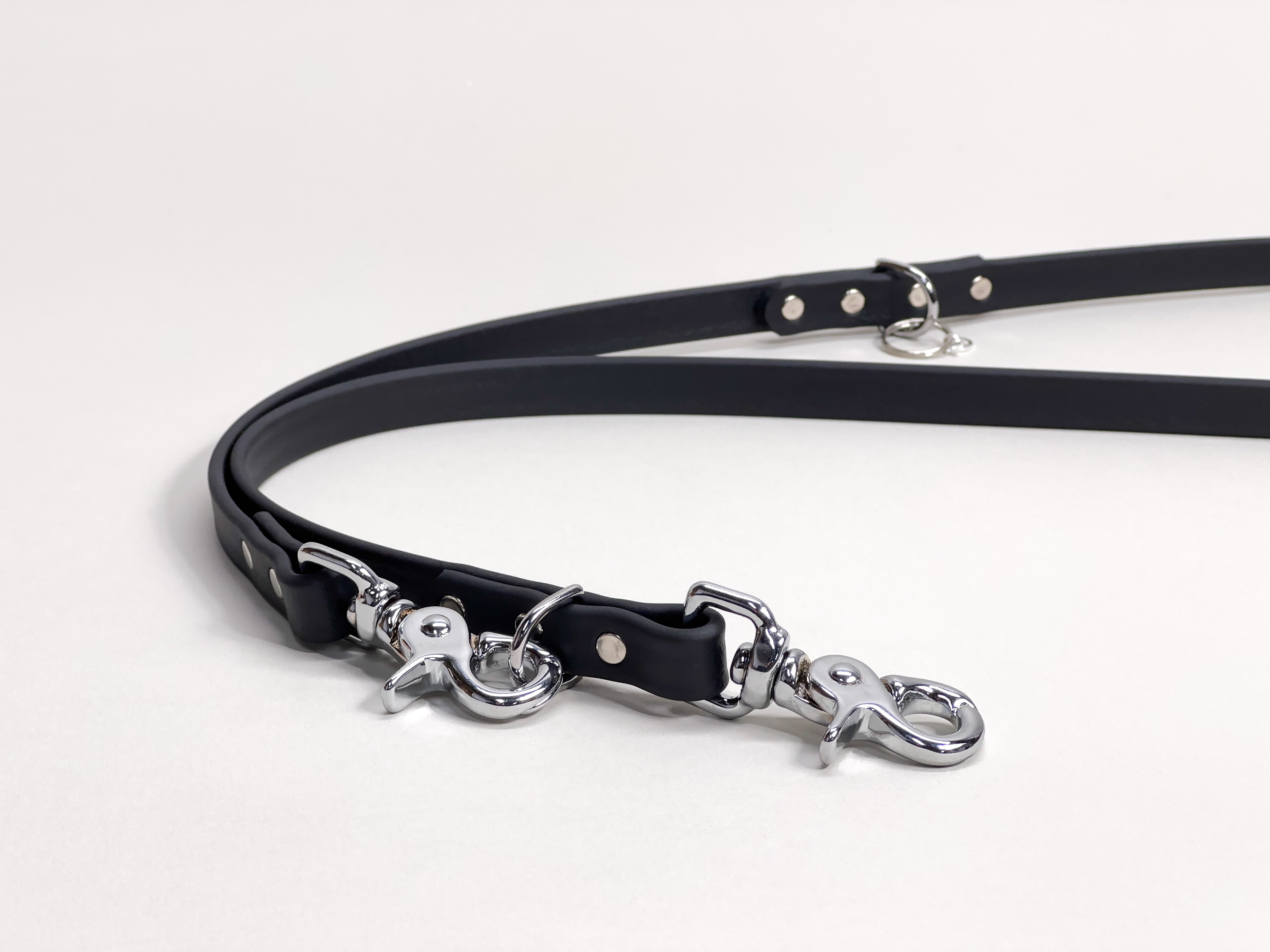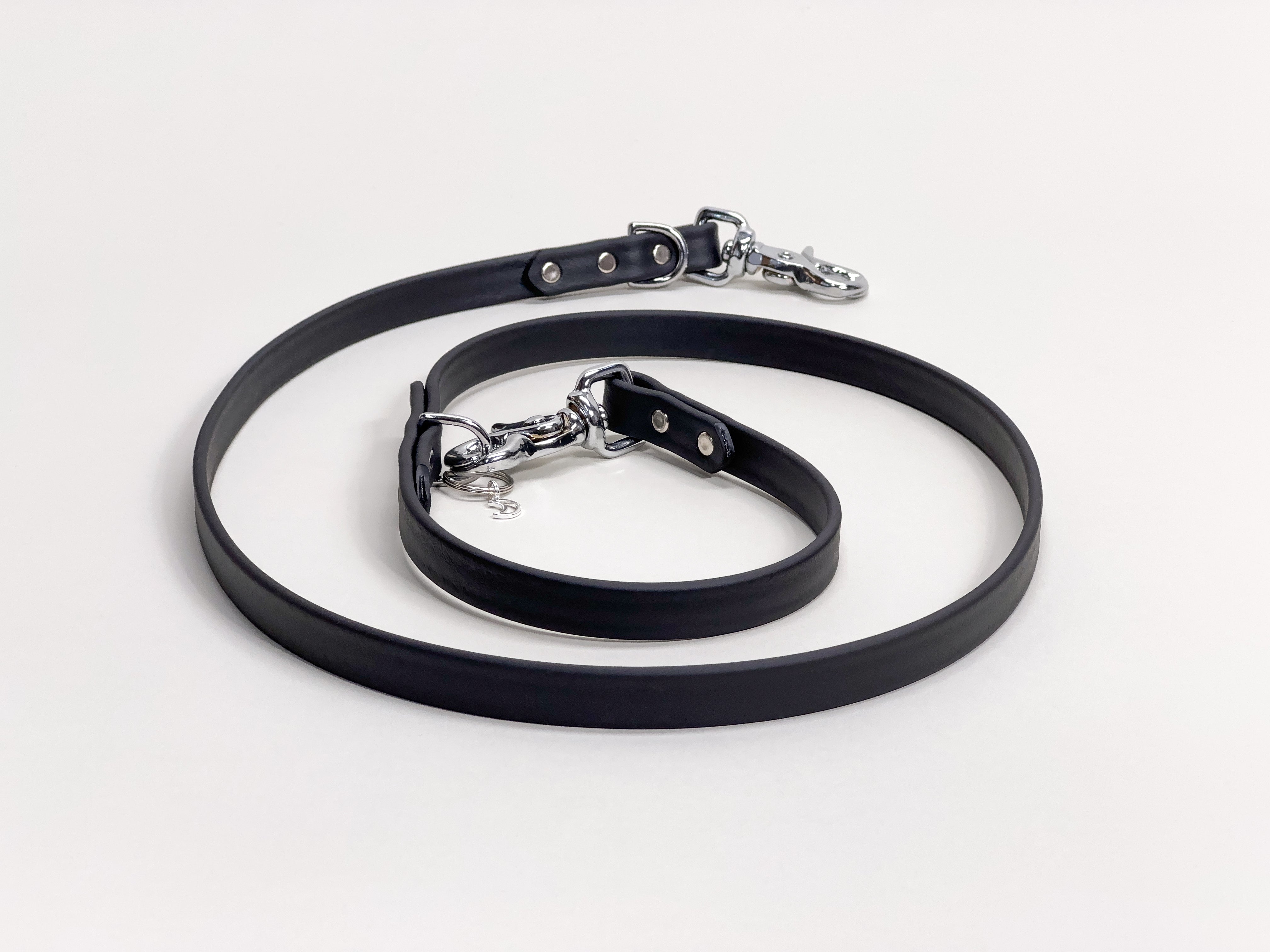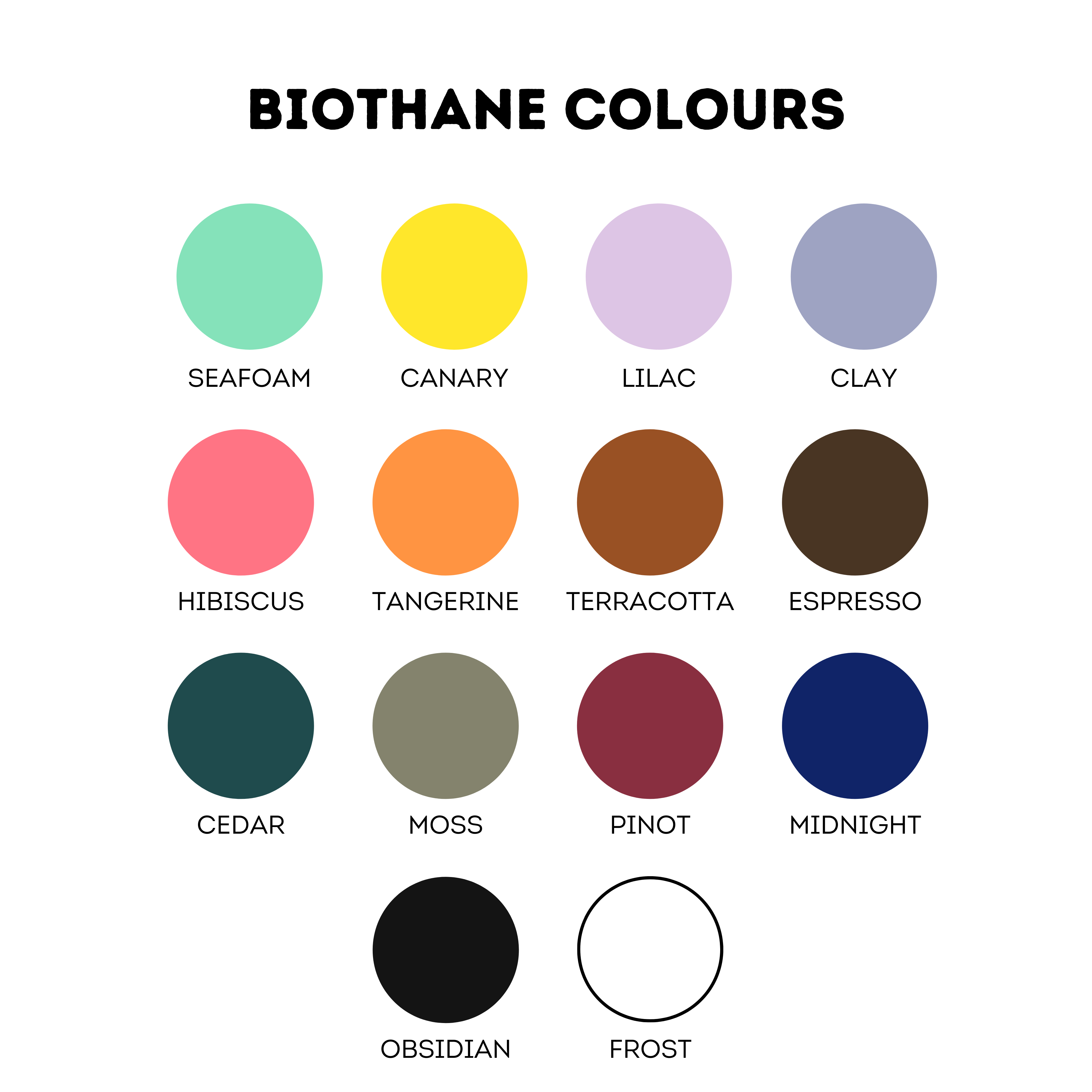 Obsidian - Classic Biothane Leash
Description
Beautiful yet functional, our leashes have been thoughtfully designed with a D-ring and a trigger snap at each end of the leash.

This makes them extremely versatile and adjustable depending on your needs. Here are a few of our favourite ways to leash up:
Regular, good old fashioned walking with the handle clipped
Quick tie-ups for patio pups
Shortened to half-length to keep your pup close in busy settings
Clipped to both the front and back of a harness for a pup who pulls

Pair with our handsfree adapter
We use solid brass and chrome-plated solid brass hardware, which won't rust over time. All of our leashes are finished with a Strange Tails moon charm to match your hardware selection.
Proudly handmade in our Vancouver, Canada studio.

About Biothane
Biothane is a coated webbing material that is strong, flexible and lightweight.
It's also waterproof, stink-proof, and stain-proof, making it extremely easy to care for and clean. This makes it our material of choice for pups that love to swim or get dirty!
We use the "Super Heavy" Biothane for all of our leashes, handsfree adapters and classic collars which has a substantial and luxe feel to it. Our adjustable quick release collars and martingale collars use the "Standard" Biothane.
Care Guide
One of the best things about Biothane is how easy it is to care for and clean. Simply soak your gear in warm soapy water as needed. You can use an old toothbrush to scrub away any stubborn dirt. Rinse away any remaining dirt and soap residue with clean water.
Solid brass hardware naturally oxidizes as it ages. It can leave tarnish marks against the biothane, especially on the lighter colours.
To remove tarnish marks, we recommend using a magic eraser or a small amount of rubbing alcohol. Please ensure to thoroughly rinse your product with soap and water before using your gear again.
While Biothane is easy to clean, it does still get dirty. Please keep in mind that lighter colours will show dirt and tarnish marks more easily, and will require more frequent cleaning to keep looking fresh!
Our handsfree adapter converts our classic biothane leash into a handsfree waist or shoulder leash.
Obsidian - Classic Biothane Leash
Lovely
I ordered a collar, a 20 foot long line, 6 foot leash and the hands free loop as well. I love the colours and the durability seems like it will be awesome.
My dog is only 11 pounds so this gear is a little heavier than she is used to but still manageable. I do find that the 6 foot leash is a little long for "heeled" walking as it drags on the ground…I may order a 4 foot for when I want her closer to me.
The most comfortable leash you can find anywhere!
This leash has been perfect for training my extremely strong 5 month old service dog in training. He is such a good pup, but being permanently disabled means I don't usually have the strength to restrain him properly without injuring myself. This lead is supple and smooth in your hands (no rope burn like nylon) and if you need to suddenly stop the dog, all you have to do is put the leash on the ground and gently step on it. Even the tiniest friction stops the leash dead. I am so happy with the functionality, durability, and quality of this leash, especially in combination with the handsfree adapter. It truly has given us freedom to train and live our lives!
Functional and stylish
Absolutely love the look of my strange tails leash super pretty but extremely functional, love how easy it is to clean the sand, dirt and mud off!
@thatpatchystaffy
4ft leashes
I absolutely love the leashes I got from you guys! I needed specific leashes for training classes and wasn't able to find any in store that met my needs. Found out about Strange tails through instagram and found exactly what I needed. Couldn't be happier with my purchase