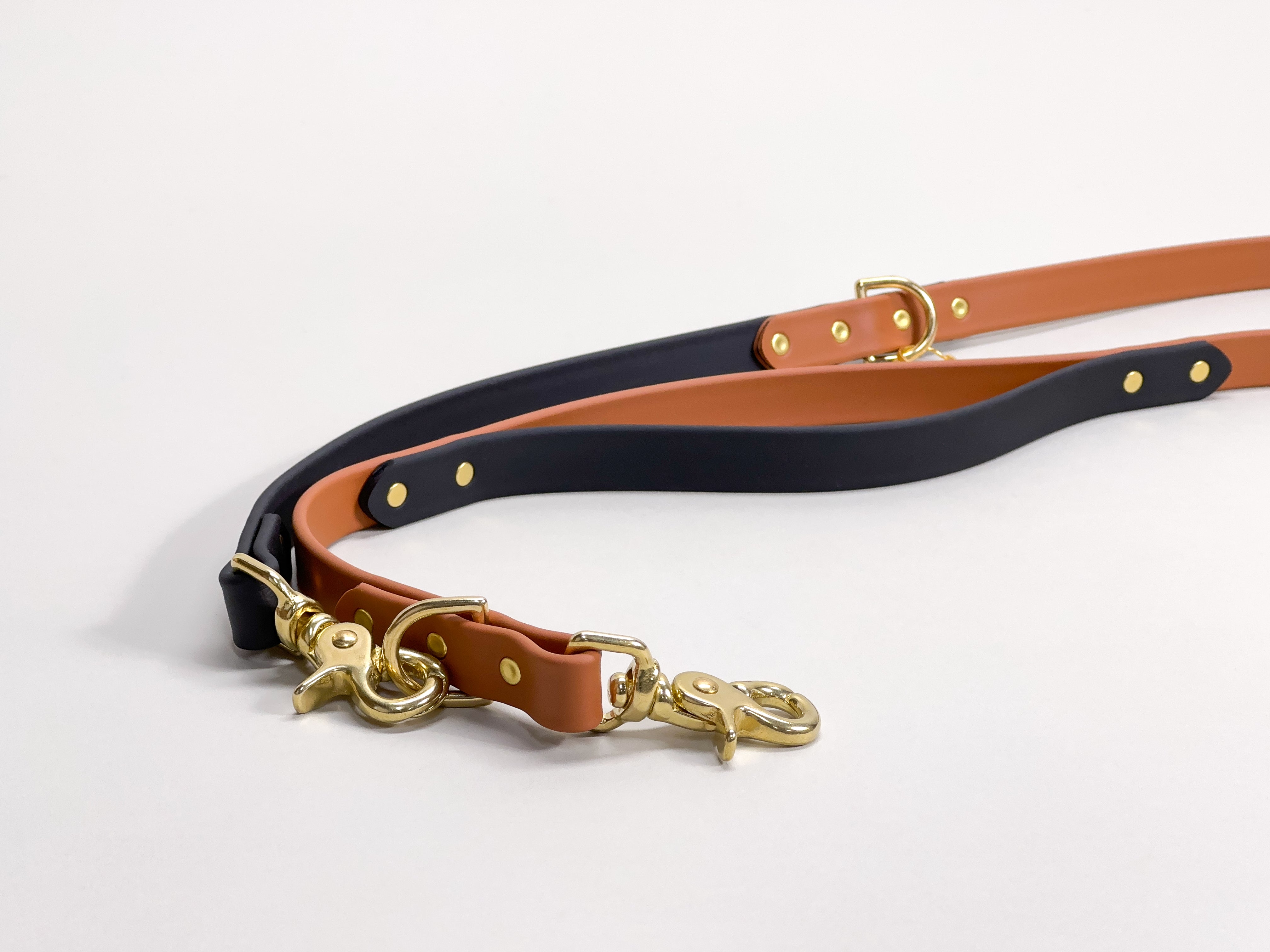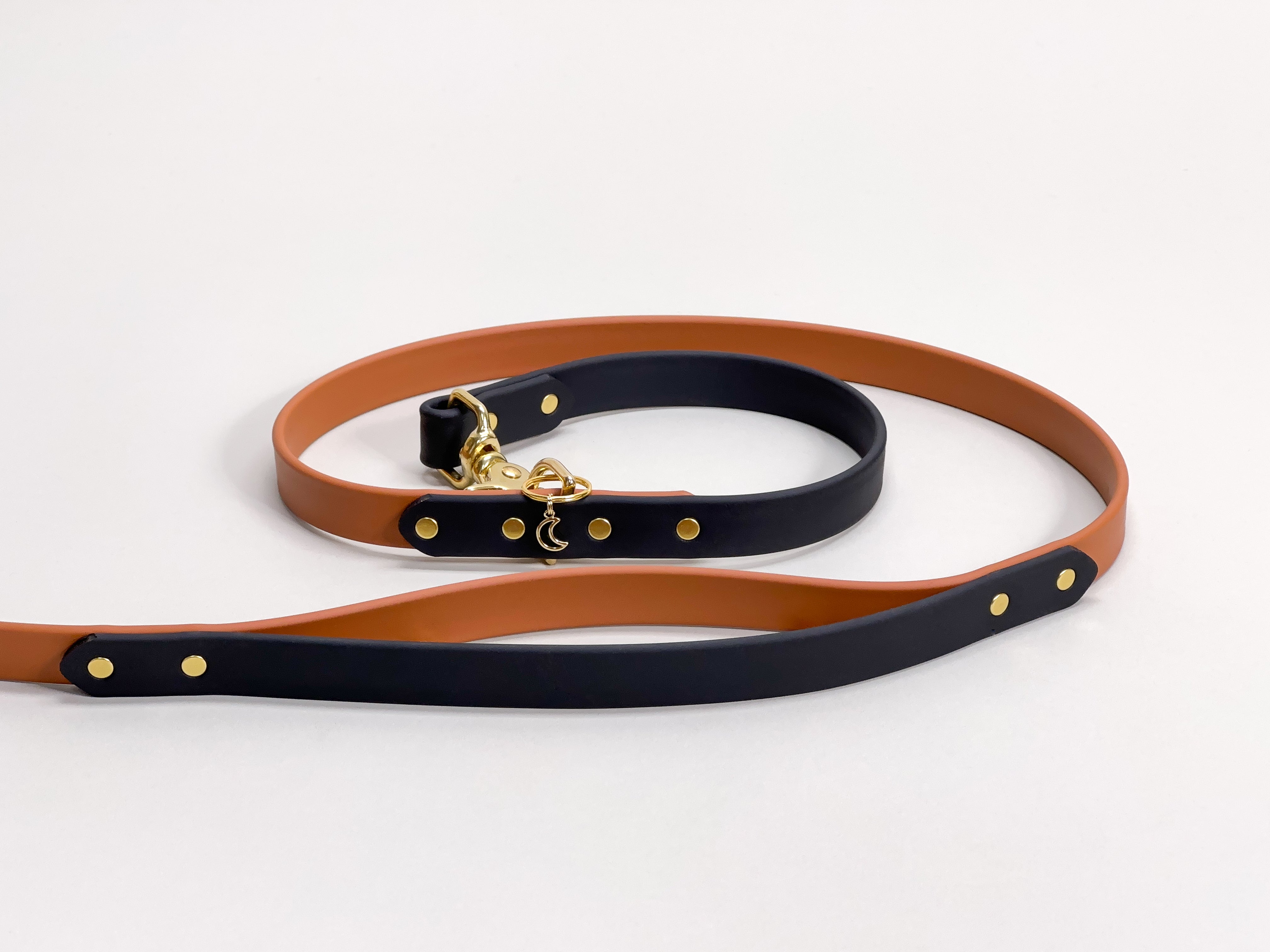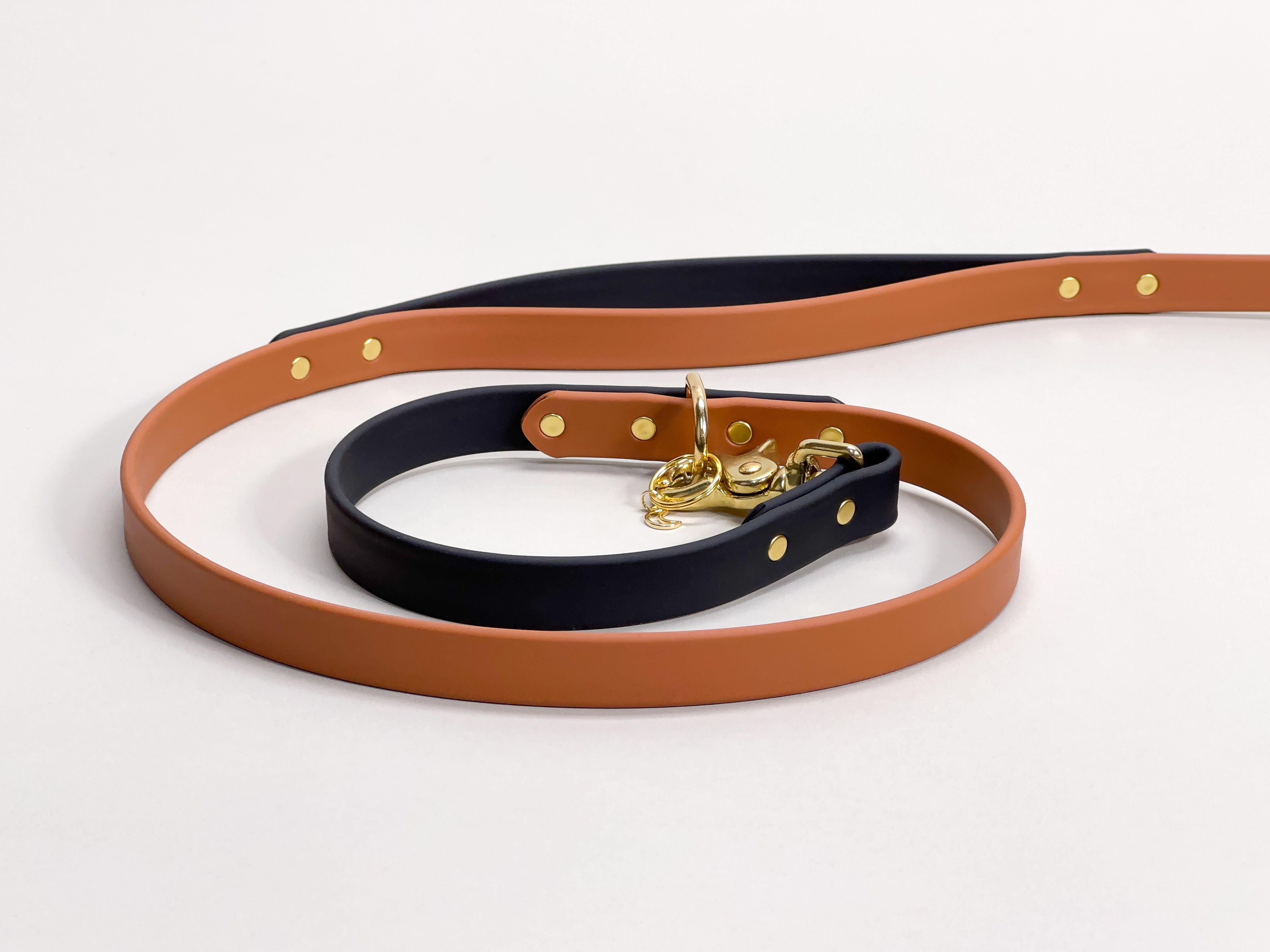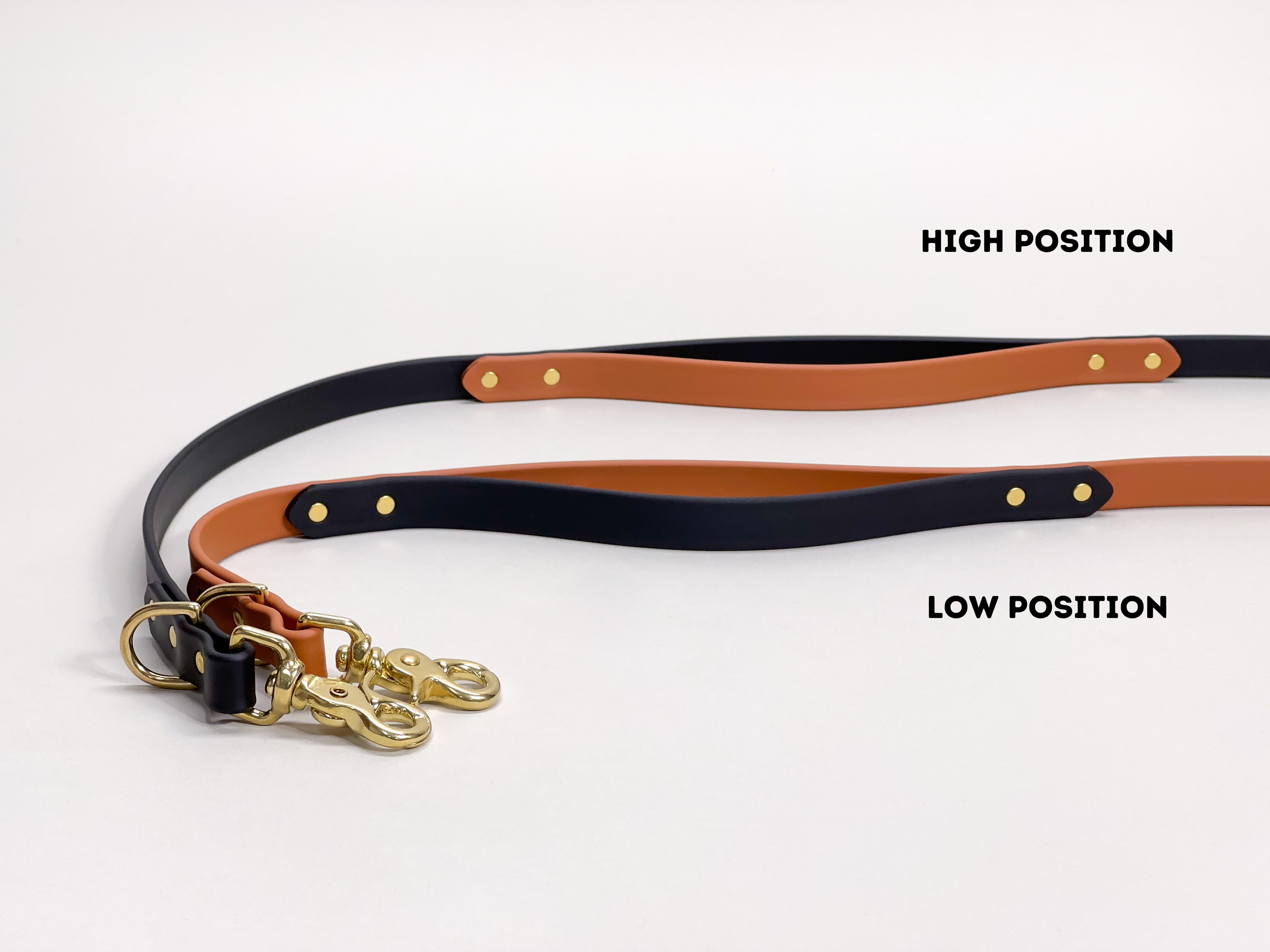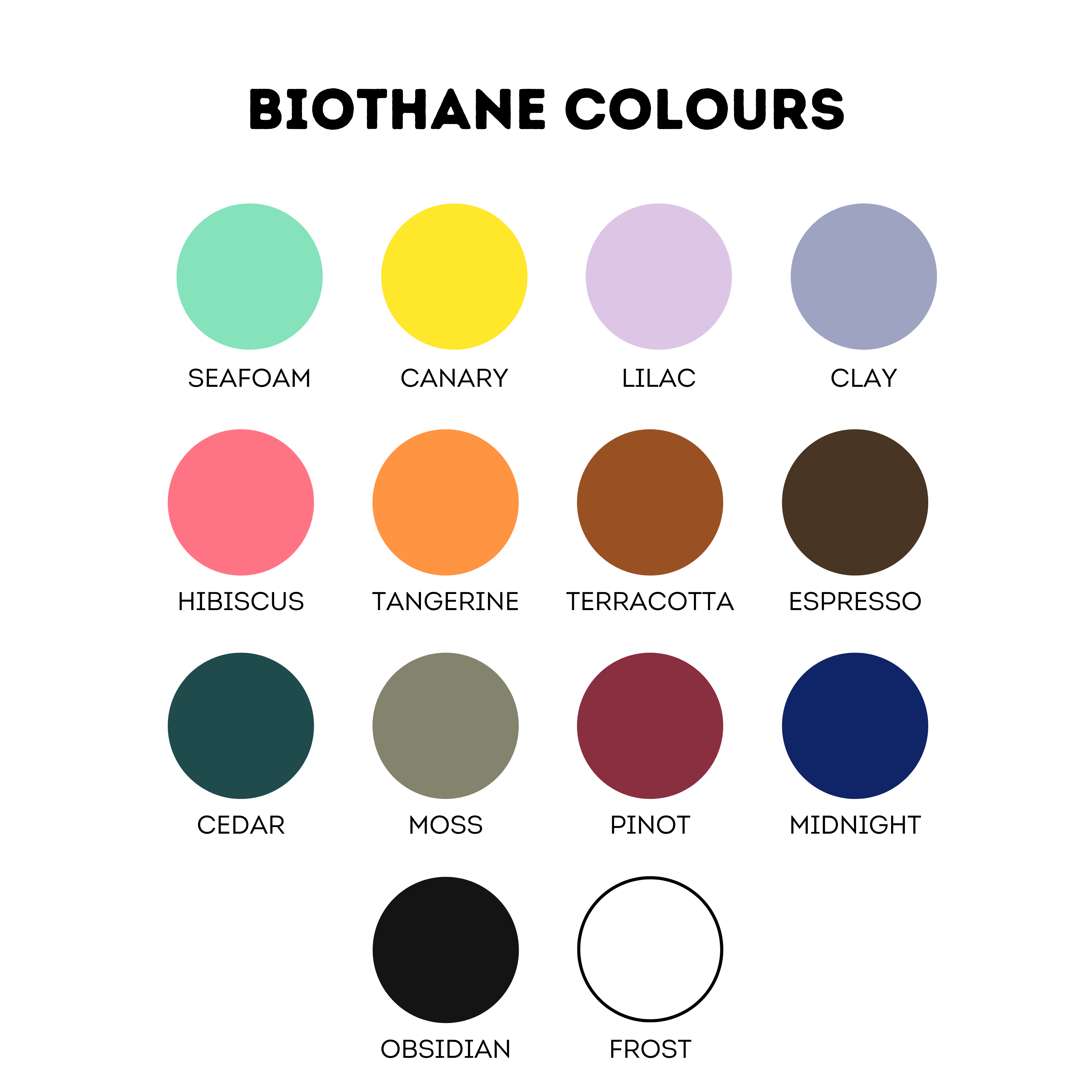 Biothane Traffic Handle Leash
Description
Upgrade one of our classic leashes to include a traffic handle, for those times when you need to keep your dog close by! We offer two options for traffic handles:

High position (top of traffic handle is approx. 28" from bottom of leash)
Low position (top of traffic handle is approx. 18" from bottom of leash)
Please note: the colour selected for the handle of the leash will also be used for the traffic handle.
Plus, you can still enjoy all of the functionality that comes with our classic leashes.
Proudly handmade in our Vancouver, Canada studio.
A note about length: the 4/5/6ft options are measured with the leash handle clipped. Unclipping the leash to attach it to the handsfree adapter will add approx. 1/2ft to your leash length. For example, a 4ft leash will be 4ft with the handle clipped, and approx. 4 1/2ft with the handle unclipped and attached to your handsfree adapter.
About Biothane
Biothane is a coated webbing material that is strong, flexible and lightweight.
It's also waterproof, stink-proof, and stain-proof, making it extremely easy to care for and clean. This makes it our material of choice for pups that love to swim or get dirty!
We use the "Super Heavy" Biothane for all of our leashes, handsfree adapters and classic collars which has a substantial and luxe feel to it. Our adjustable quick release collars and martingale collars use the "Standard" Biothane.
Care Guide
One of the best things about Biothane is how easy it is to care for and clean. Simply soak your gear in warm soapy water as needed. You can use an old toothbrush to scrub away any stubborn dirt. Rinse away any remaining dirt and soap residue with clean water.
Solid brass hardware naturally oxidizes as it ages. It can leave tarnish marks against the biothane, especially on the lighter colours.
To remove tarnish marks, we recommend using a magic eraser or a small amount of rubbing alcohol. Please ensure to thoroughly rinse your product with soap and water before using your gear again.
While Biothane is easy to clean, it does still get dirty. Please keep in mind that lighter colours will show dirt and tarnish marks more easily, and will require more frequent cleaning to keep looking fresh!
Our handsfree adapter converts your traffic handle leash into a waist or shoulder leash.
Biothane Traffic Handle Leash
"

I love the craftsmanship of this leash. It's so durable and feels good in my hand. The material is thick and durable. I finally got to use the clip handle the other day when I tied my dog off to the leg of a table. It was awesome not having to unhook her and wrap the leash through. The traffic handle is thoughtfully positioned. Because of how it's made, my dog's foot doesn't get caught in the traffic loop either if I drop the leash. It's awesome. The colors are awesome and the moon charm is a sweet little addition. It's so well made and feels luxurious. My hand doesn't slip or hurt if my dog starts pulling either. No rope burns! It's great!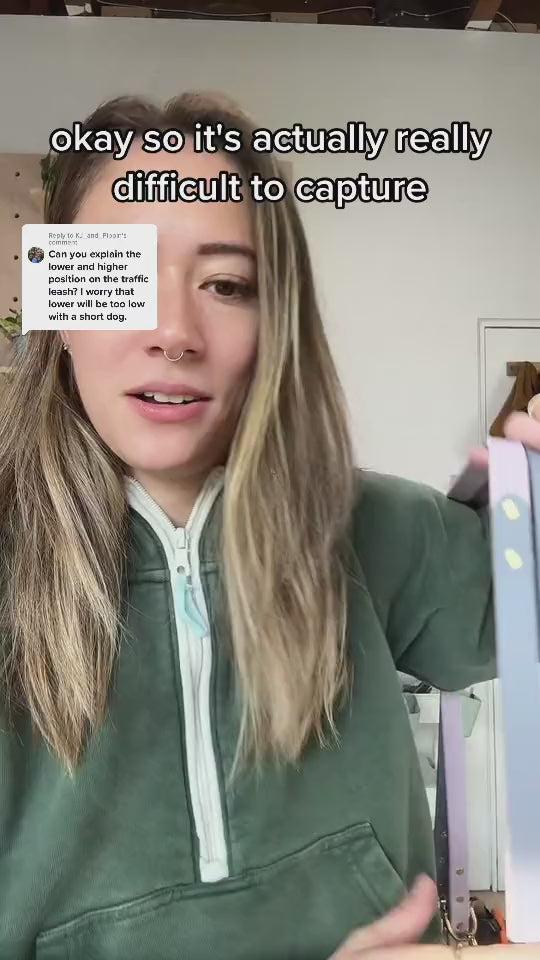 Everything I Hoped it Would Be
This leash is just fantastic! I really love how it feels in my hands while out with my dog, the traffic handle is super useful, and the clay color is lovely and go so well with the lilac handles and her lilac martingale collar that we got last year. Would highly recommend this leash to anyone.
This is my favorite leash to use! It pairs perfectly with the quick release collar. I love how soft and easy to hold the leash is. The material is easy to keep clean and the length is perfect! I measured before buying so the traffic handle is exactly where I need it to be. The leash feels very sturdy and well-made! Once my dog has learned leash manners I will be buying the hands-free adapter!
Best leash money can buy you
I can't get enough of this leash!!!! It's s for life leash so it is worth the money in my opinion. It's comfy and good for all heights as well. Getting everyone in our family these leashes for Christmas!
LOVE my leash! I went with the 5ft and it is perfect for walking my mini Aussie. I also purchased the hands free attachment and love how sturdy the material is. The traffic handle is the perfect addition when you would like your pup a little closer in busier areas or working on a heel position.
I get compliments on the leash all of the time. I highly recommend Strange Tails products.
I received the product well before the expect delivery date as well.
I love that they are Canadian made as well.
Came as Described
Exactly as I ordered! Very happy with my purchase!