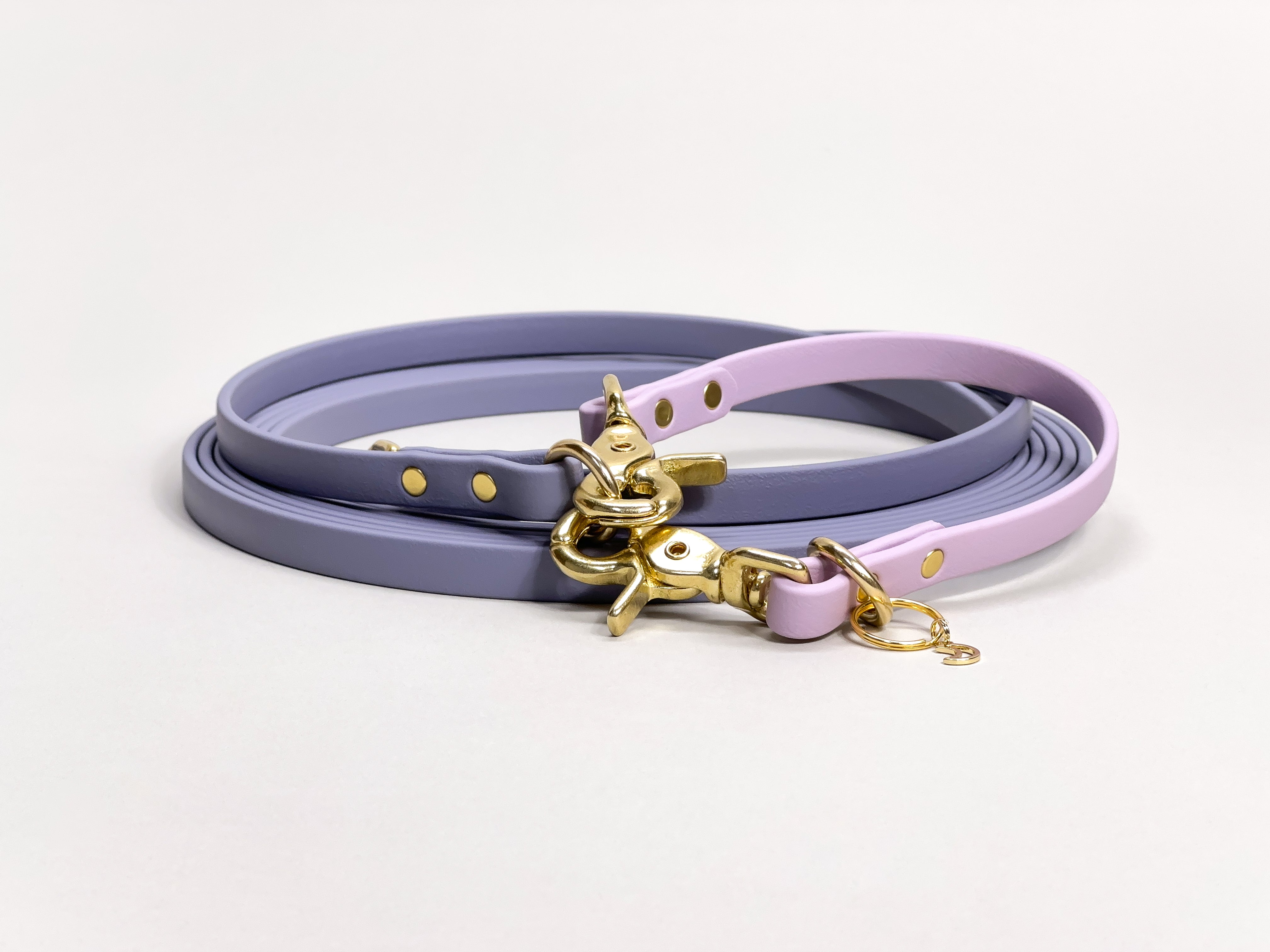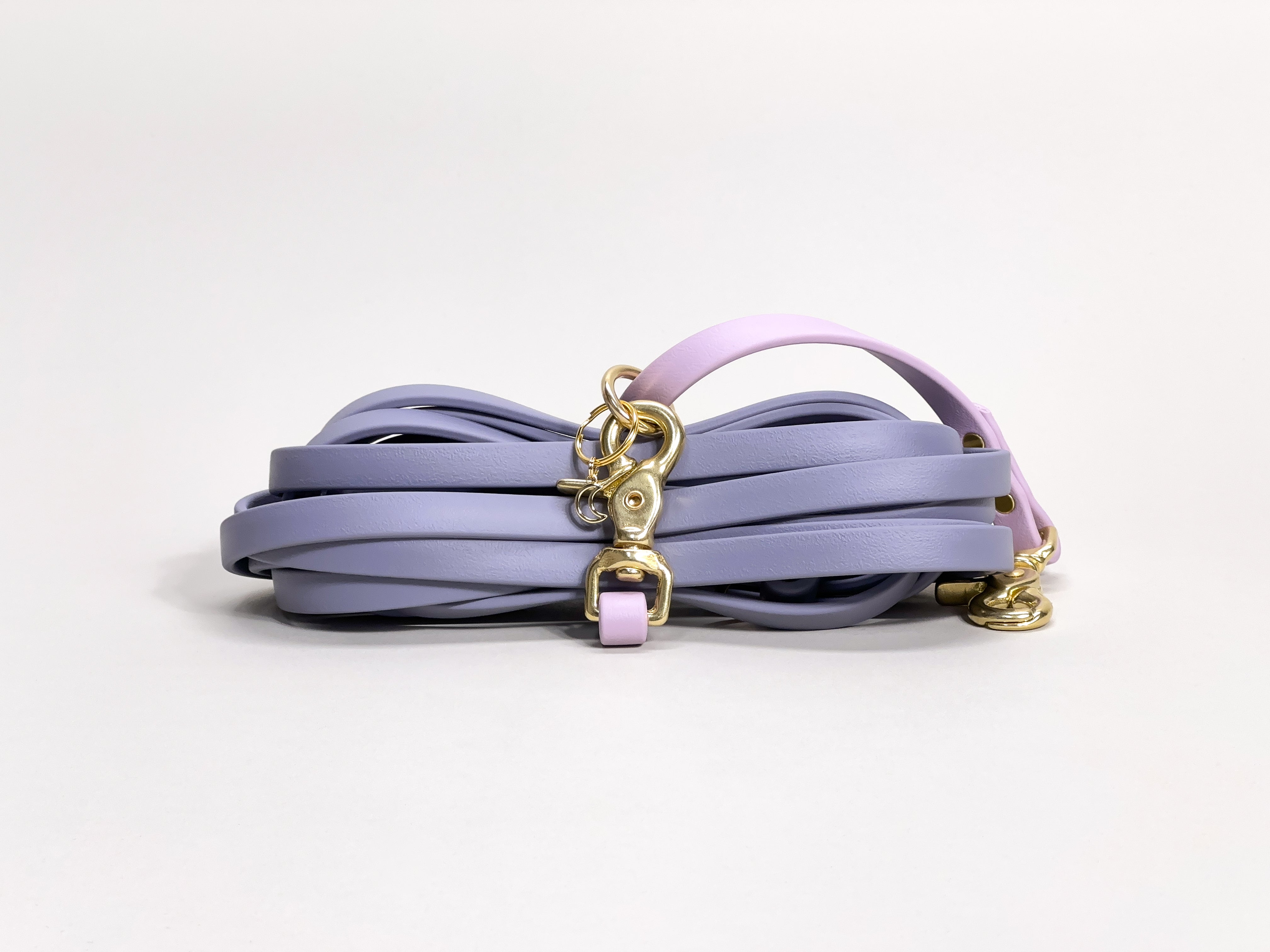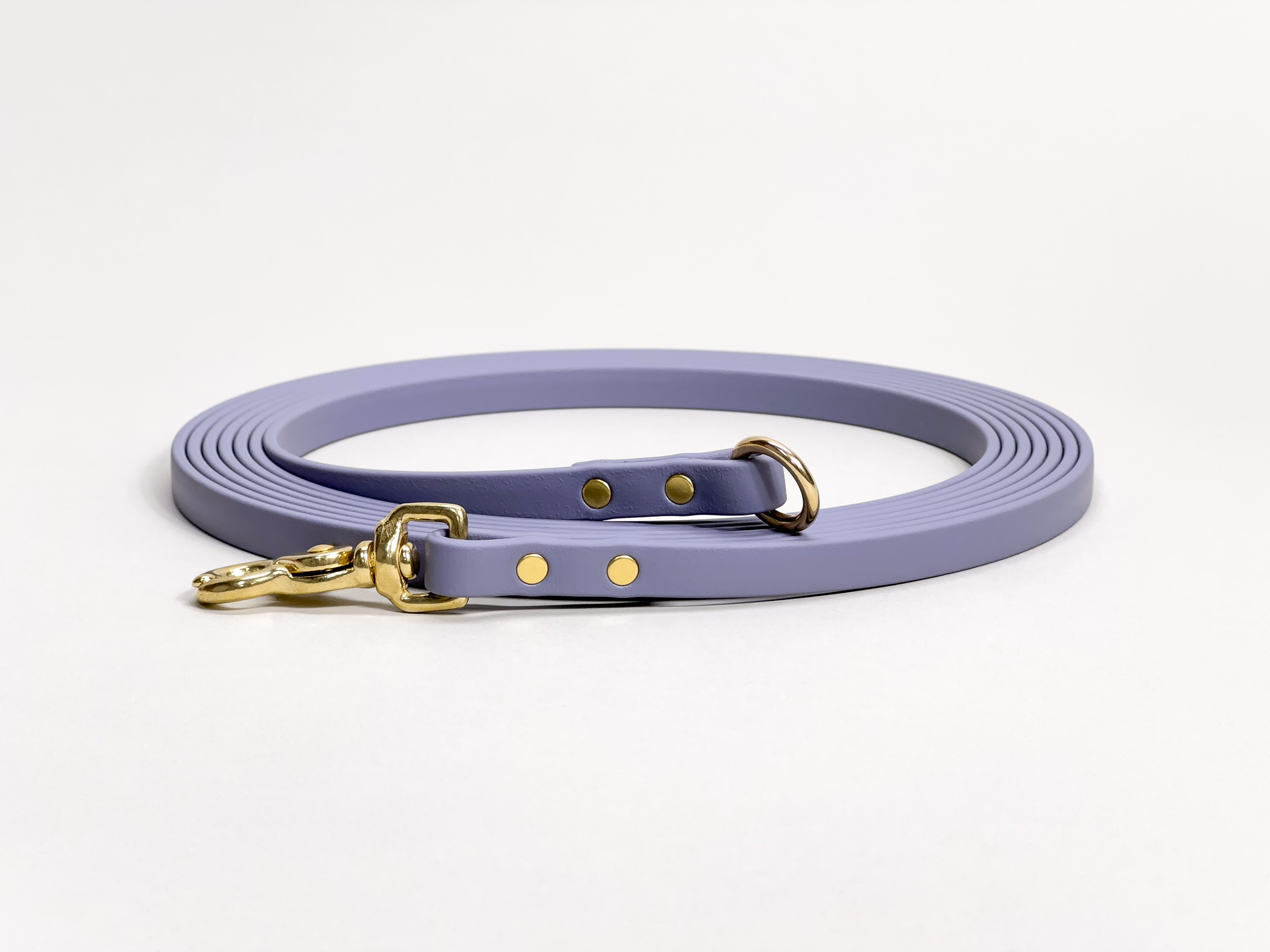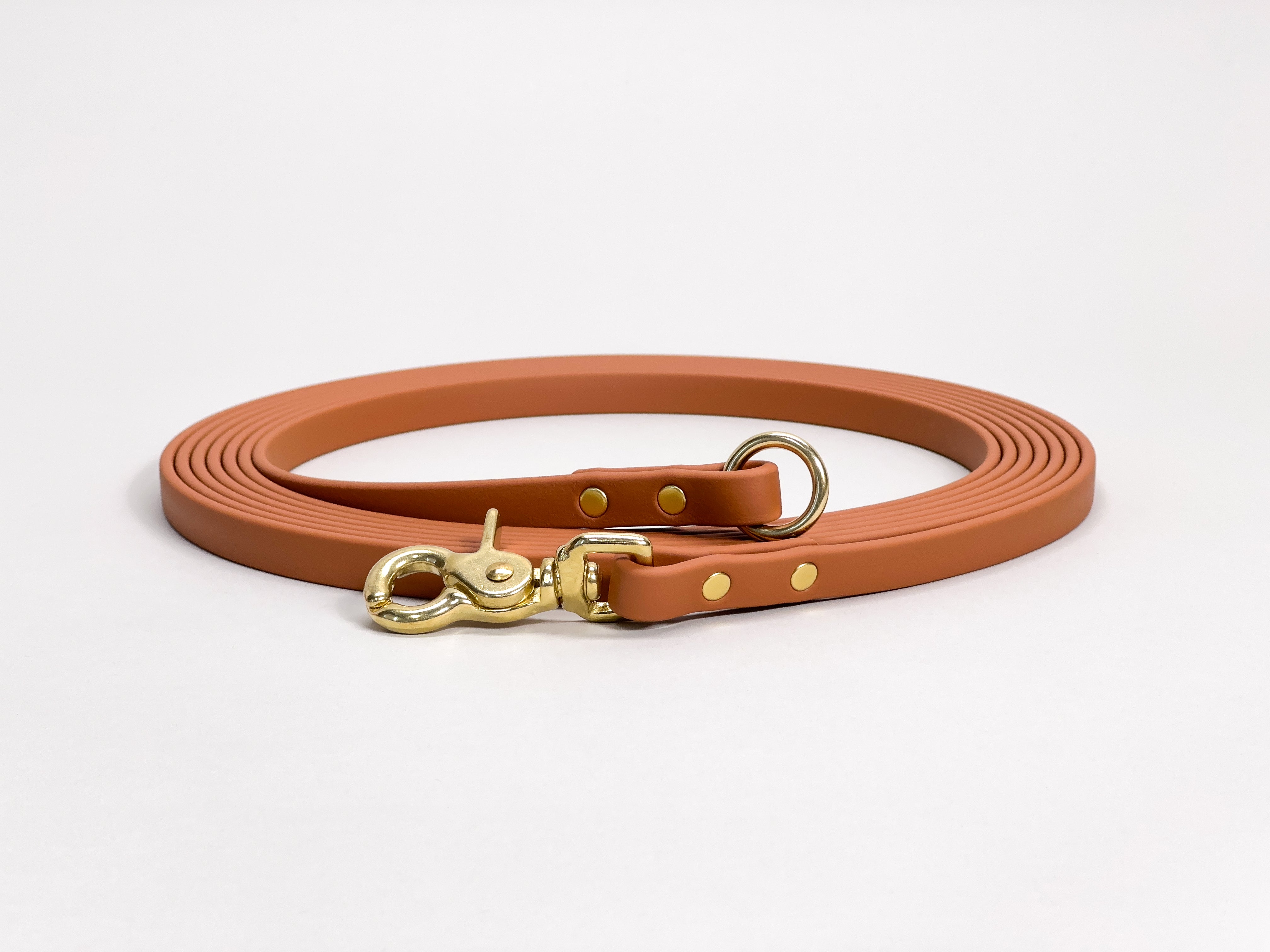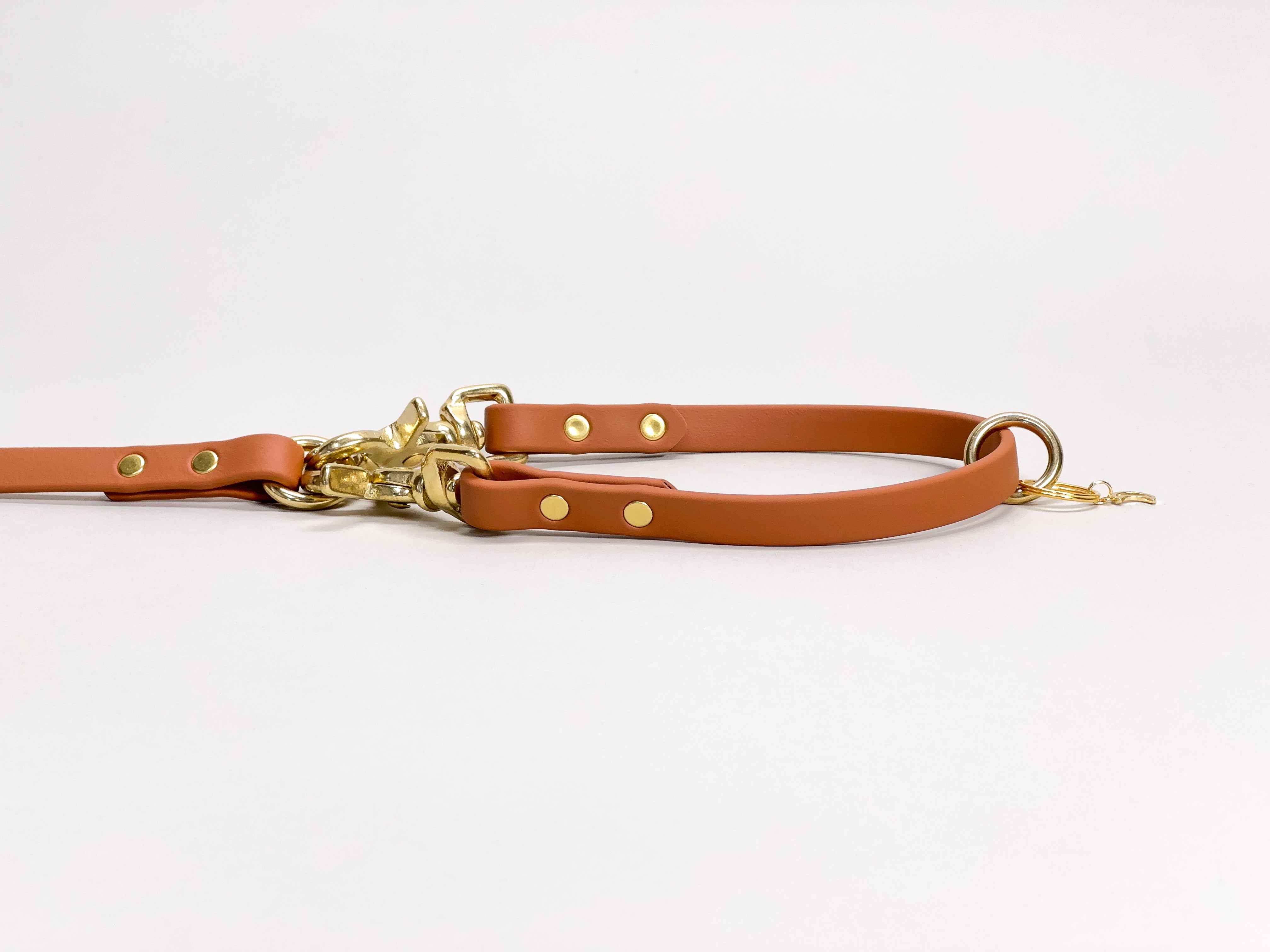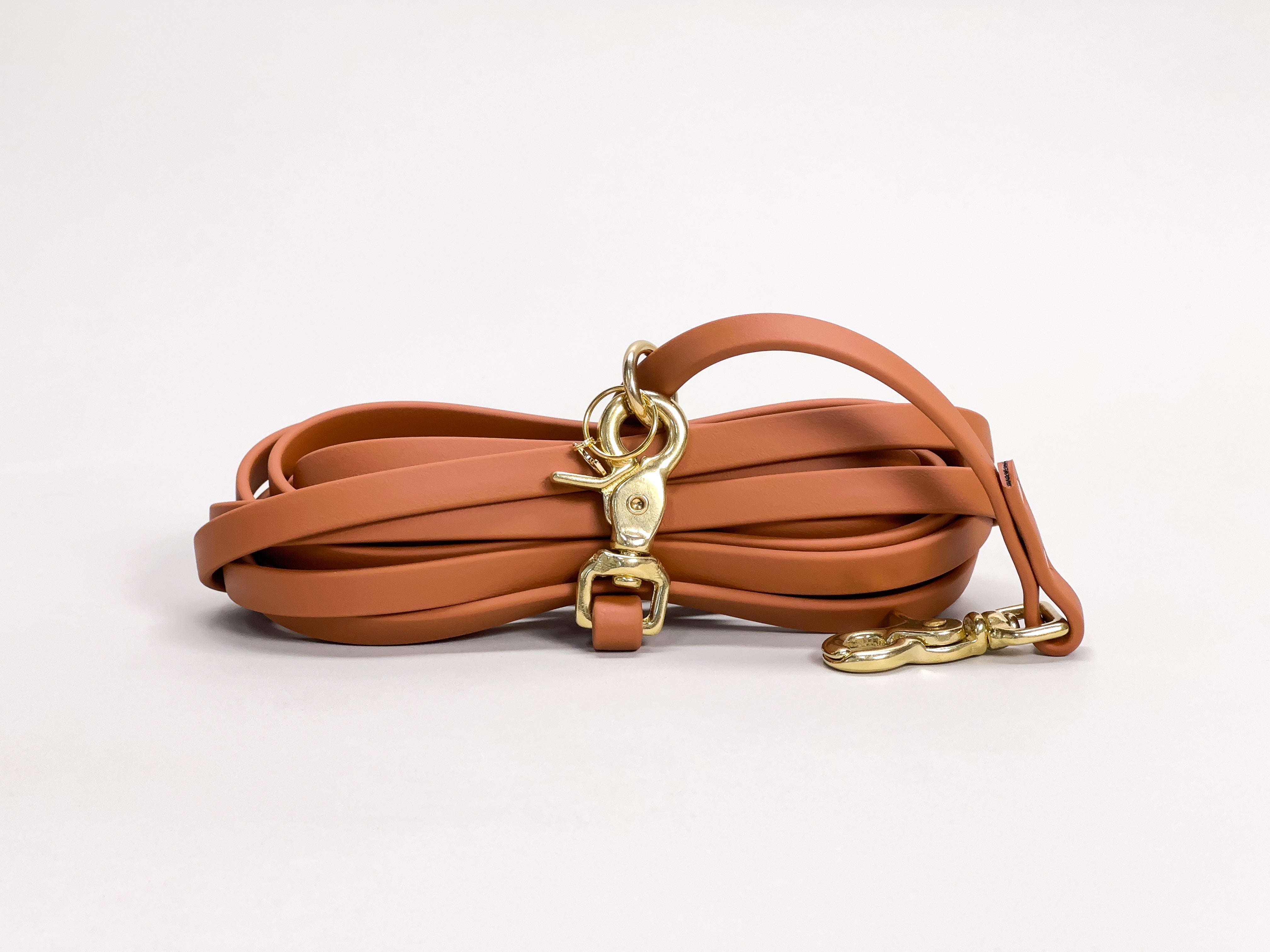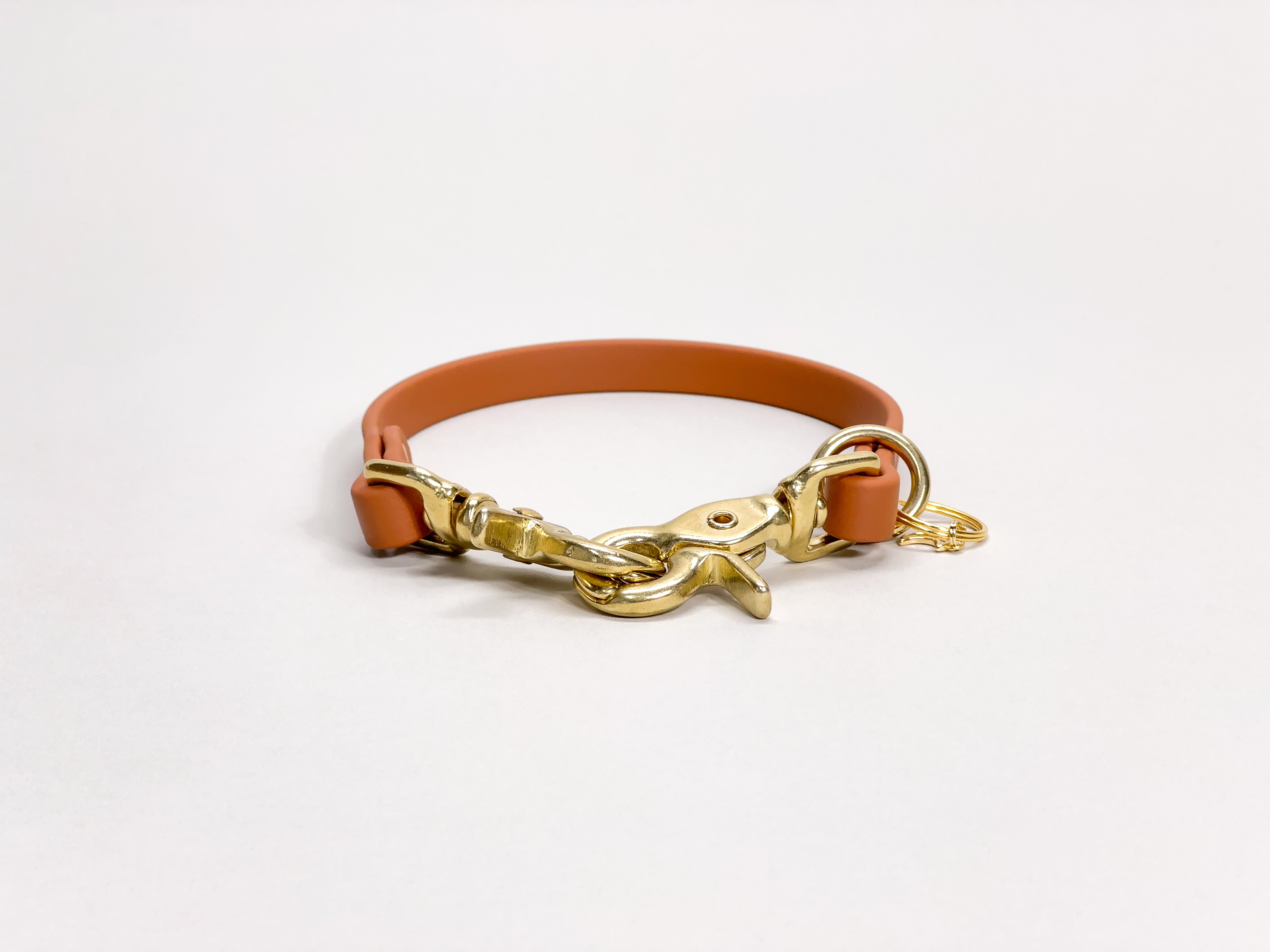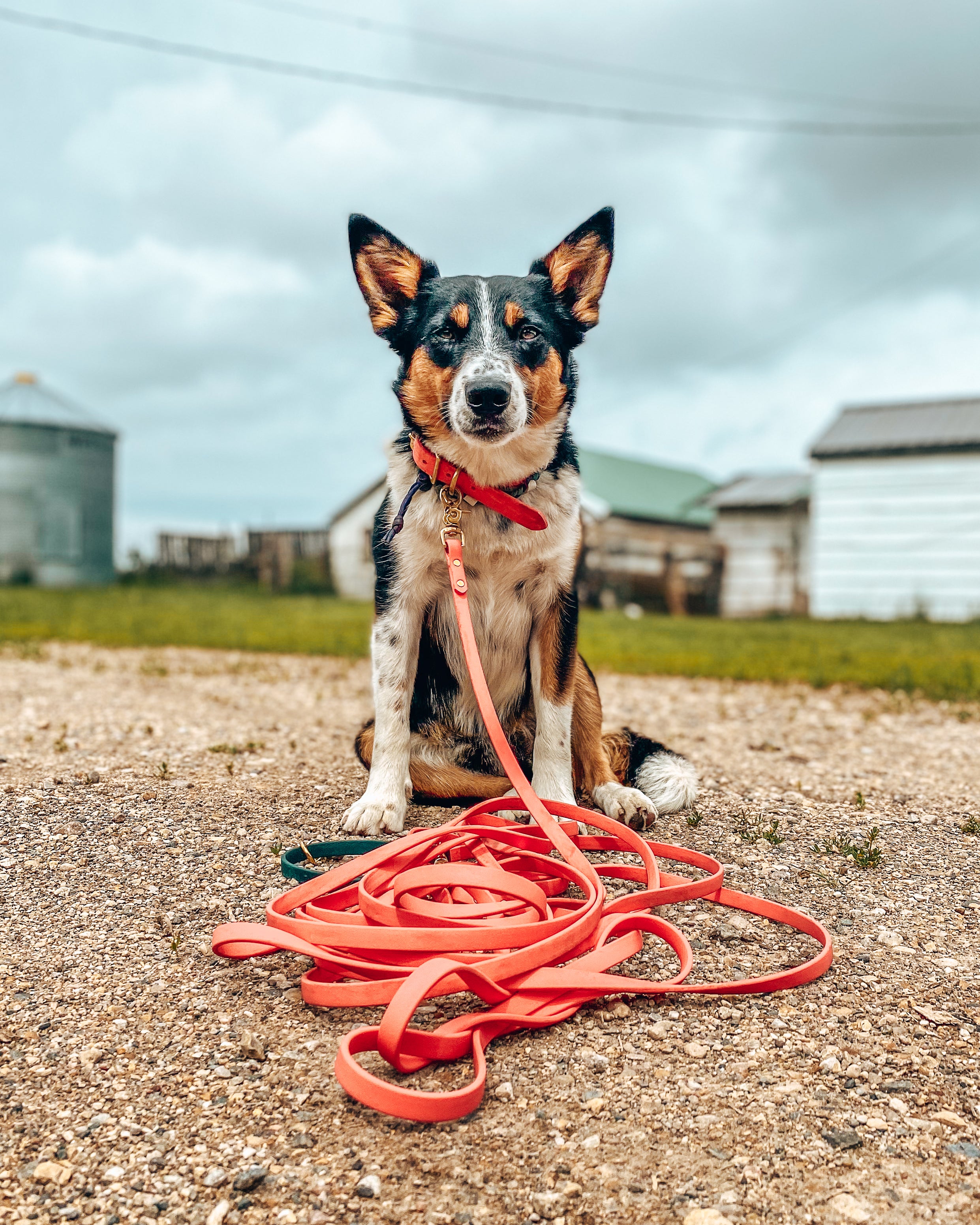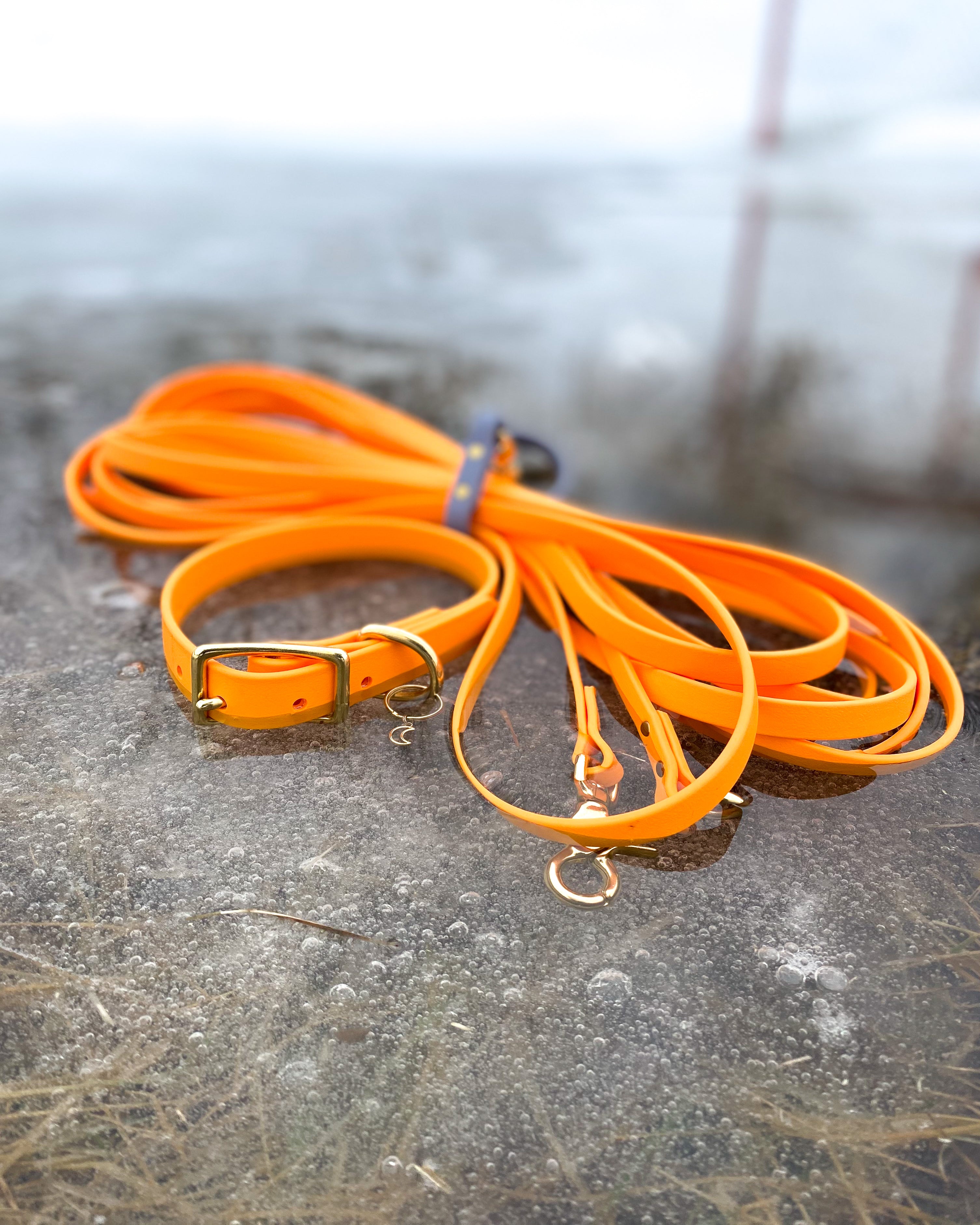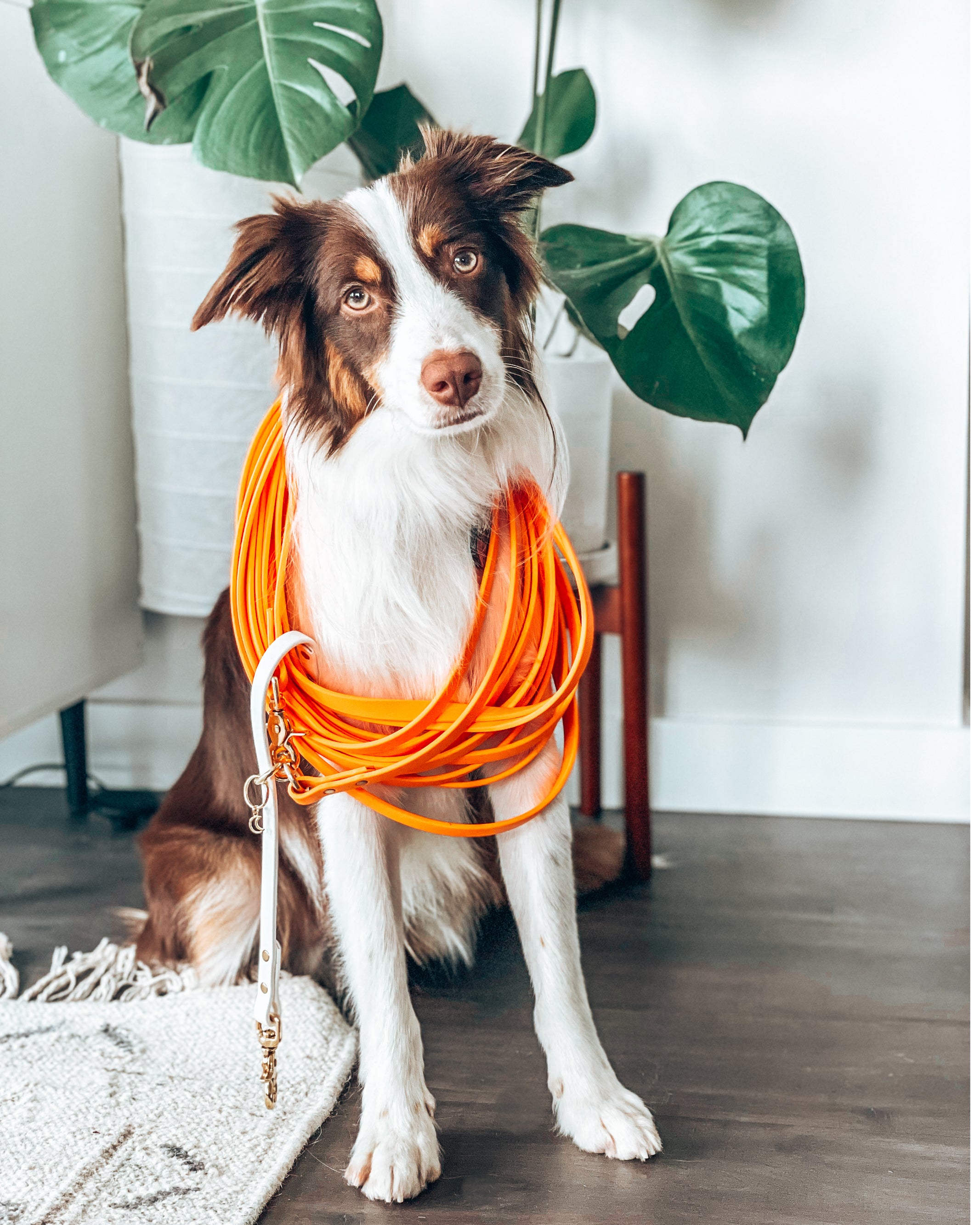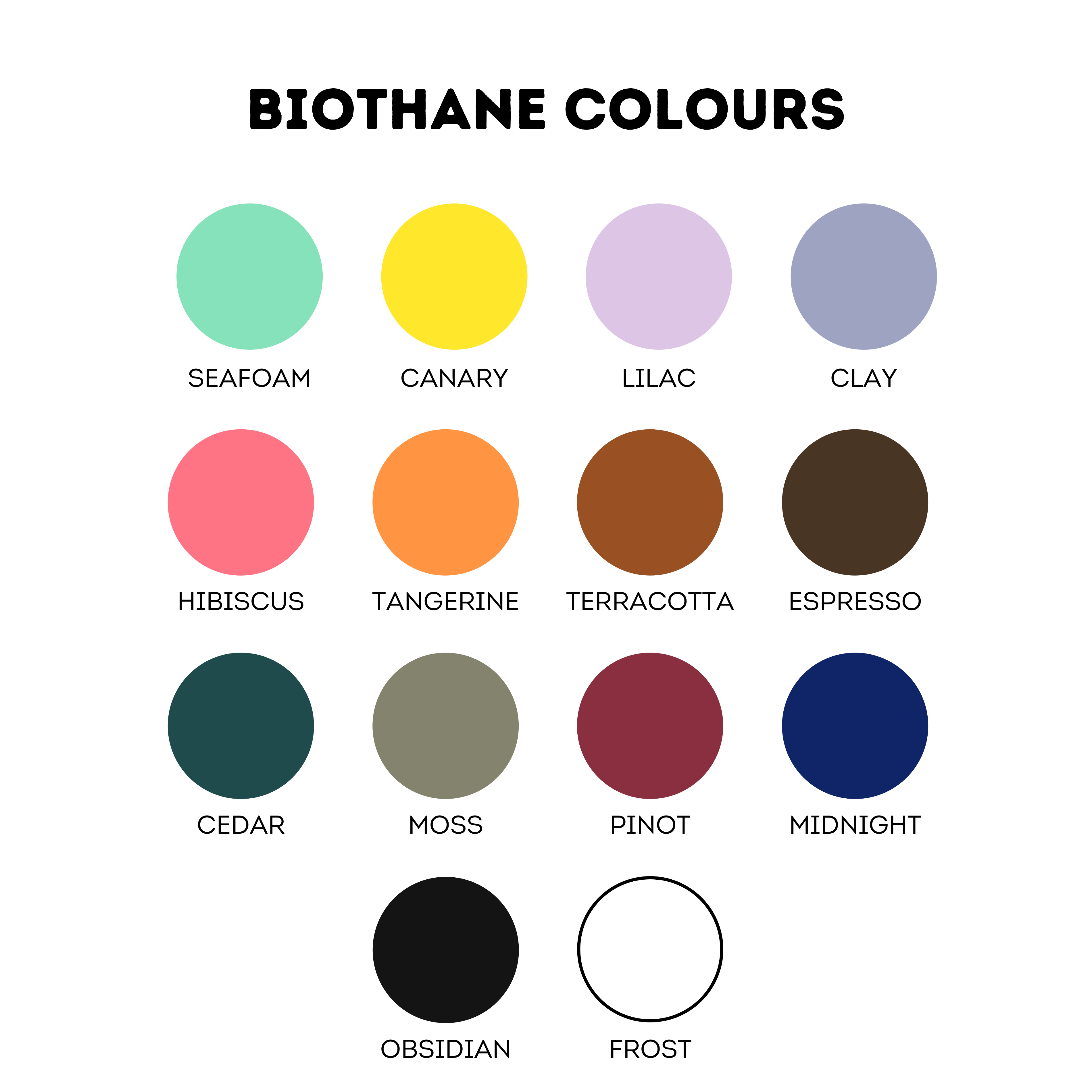 Biothane Long Line with Handle
Description
Please note: if you'd like go handsfree with your longline, pair it with our handsfree adapter!
Our Biothane long lines have been designed to be versatile, practical and stylish.
Made from 1/2" super heavy weight Biothane, they feature a trigger snap on one end to fasten to your dog and an o-ring on the other end. 
The detachable handle has been designed with two trigger snaps and a O ring, which allows for the long line to be used in multiple ways:  
↟ Clipped as a regular handle 
↟ Clipped around a secure object to use as a tie out (only while supervised) 
↟ Allow the line to drag on the ground with the handle removed
↟ Use the handle to attach the longine to the handsfree adapter 
↟ Can be used with the sliding O ring on the handle to neatly bundle and carry/store the long line 
Each long line comes with our Strange Tails moon charm. 
About Biothane
Biothane is a coated webbing material that is strong, flexible and lightweight.
It's also waterproof, stink-proof, and stain-proof, making it extremely easy to care for and clean. This makes it our material of choice for pups that love to swim or get dirty!
We use the "Super Heavy" Biothane for all of our leashes, handsfree adapters and classic collars which has a substantial and luxe feel to it. Our adjustable quick release collars and martingale collars use the "Standard" Biothane.
Care Guide
One of the best things about Biothane is how easy it is to care for and clean. Simply soak your gear in warm soapy water as needed. You can use an old toothbrush to scrub away any stubborn dirt. Rinse away any remaining dirt and soap residue with clean water.
Solid brass hardware naturally oxidizes as it ages. It can leave tarnish marks against the biothane, especially on the lighter colours.
To remove tarnish marks, we recommend using a magic eraser or a small amount of rubbing alcohol. Please ensure to thoroughly rinse your product with soap and water before using your gear again.
While Biothane is easy to clean, it does still get dirty. Please keep in mind that lighter colours will show dirt and tarnish marks more easily, and will require more frequent cleaning to keep looking fresh!
Biothane Long Line with Handle
"

Just like all of our other Strange Tails gear, these long lines are seriously amazing. Love the weight, how easy it is to clean, and just the versatility. We use the handle as a handle, to store our long lines nicely, and also to attach our long lines to our hands-free adapter! Not to mention that they are just so aesthetically pleasing! Just so great for hiking and practicing recall. We are so obsessed!!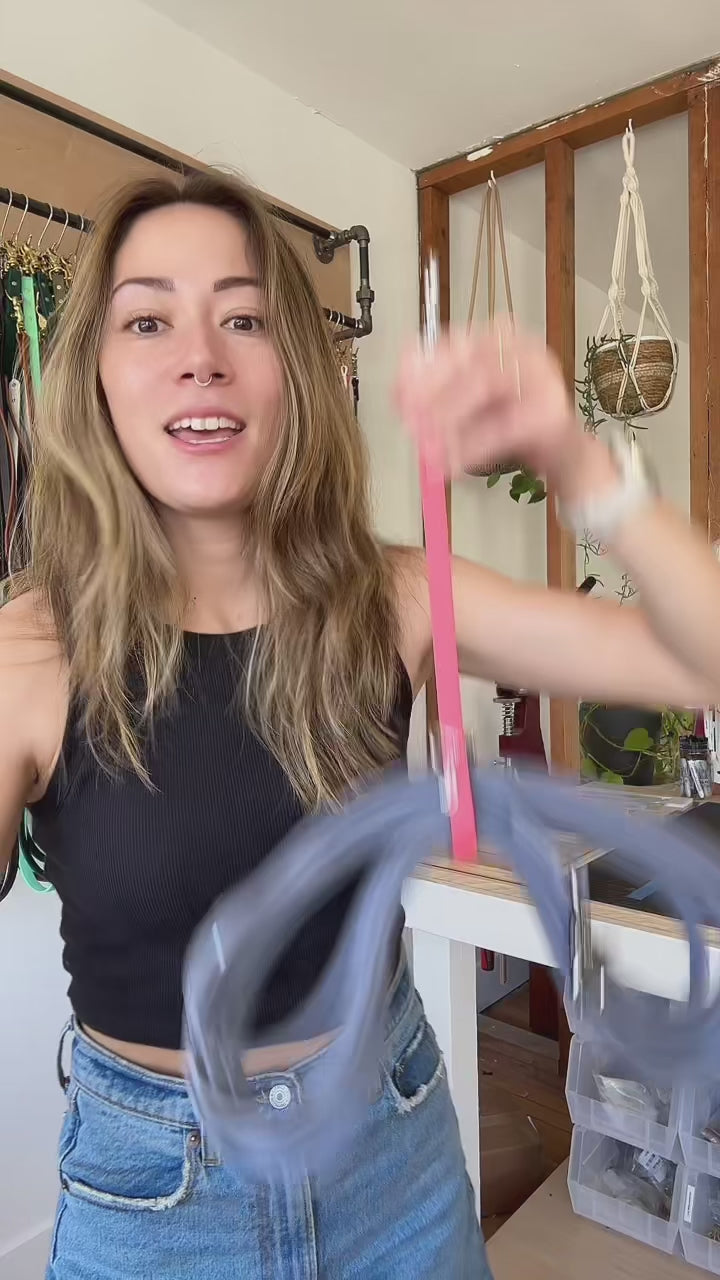 Freedom!
Ordered 30ft longline with handle and I already previously purchased the hands free adapter. Perfect pairing! Very durable and easy to clean doesn't get tangled.
Arlo loves the freedom to walk, sniff and climb on rocks. Me I love seeing him enjoy his walks.
Highly recommended
My new favorite dog product!
I ordered an orange long line to use for my dog on a hunting trip and it worked out perfectly! The 30ft length was perfect for my dog to have some freedom, but also gave me piece of mind. The orange color is very pretty and also shows up so well in the woods. It is so comfortable on my hands and now I'm trying not to order all the Strange Tails products! Highly HIGHLY recommend!
It's so pretty and I love it
Best longline we've tried!
Very happy with our purchase of the 25ft longline! Great for hiking, and I love being able to give my dog some more space to sniff around while still tethered to me if full my off leash is not an option. Easy to clean, and love that the handle detaches to make it a great dragline.
Amazing product
The long line is amazing! Took it to the beach for mt dog and it worked great. I got the 30ft one but I still felt I had great control of my dog because of how strong the material is. It also was not to heavy when it dragged on the ground when she stuck closer to me. It also was very easy to pick up and shorted the length when I need to bring her closer to me. I was able to wash the sand off easily even though I had left it overnight in my car. Could not recommend it enough!