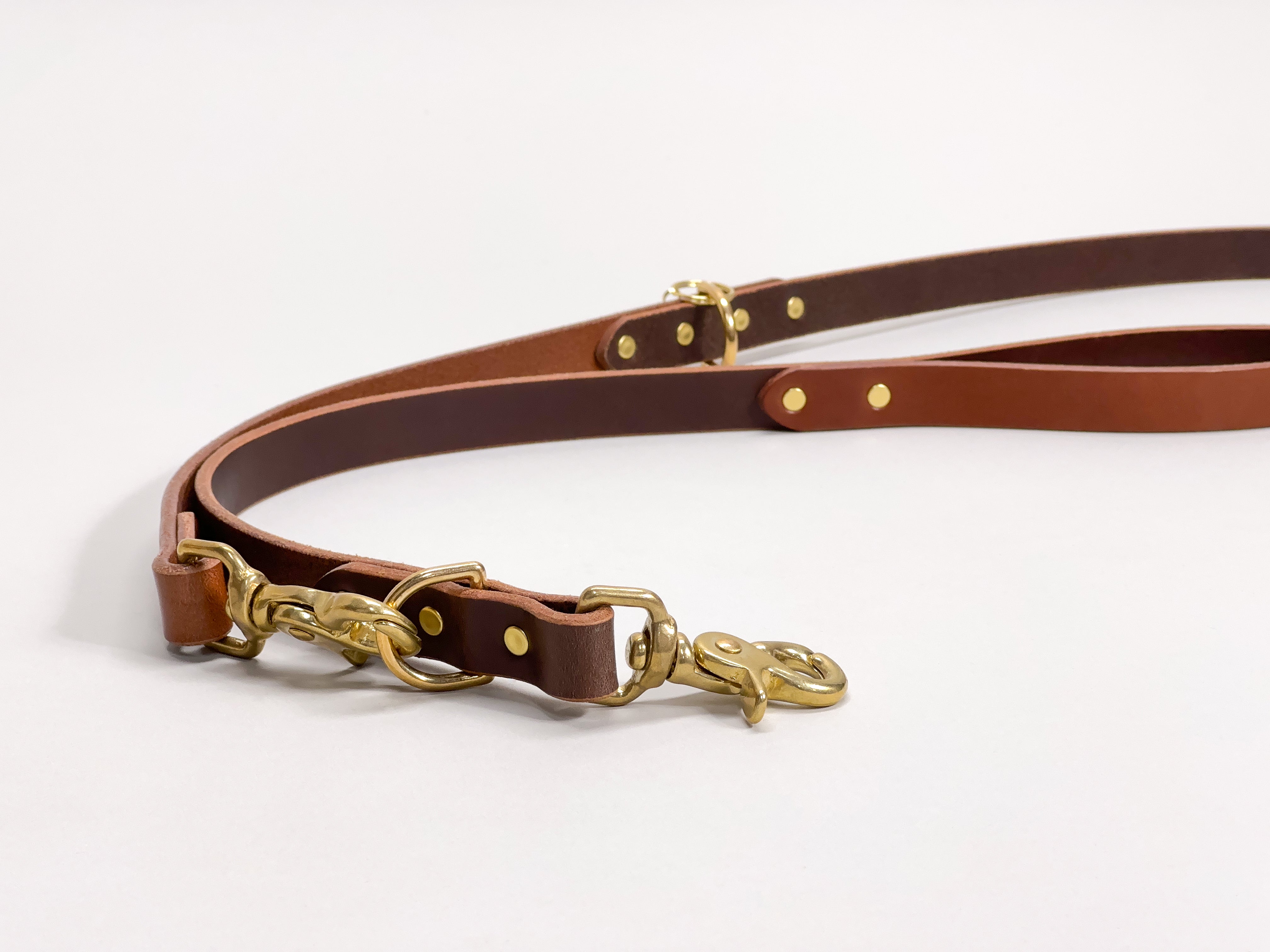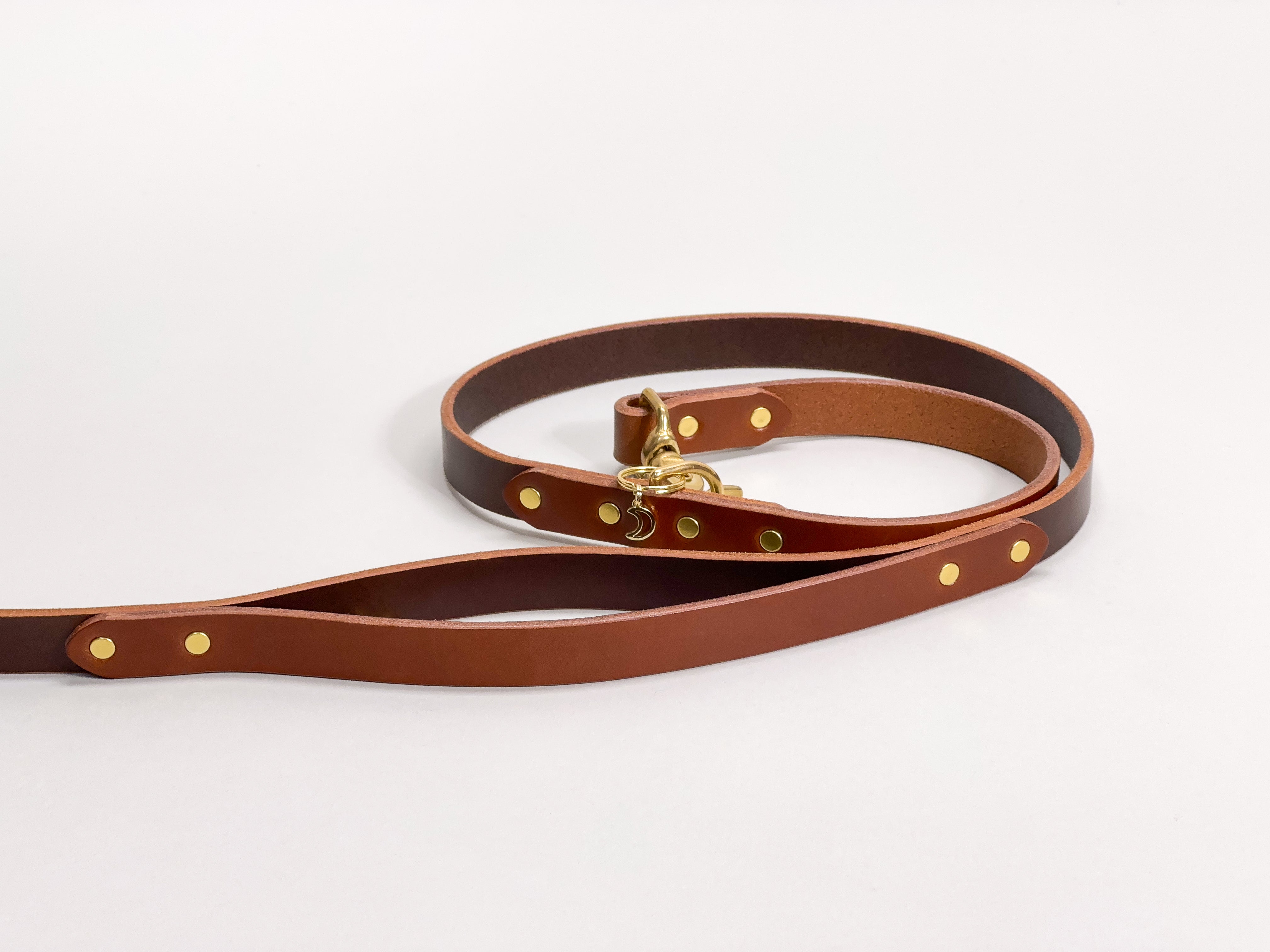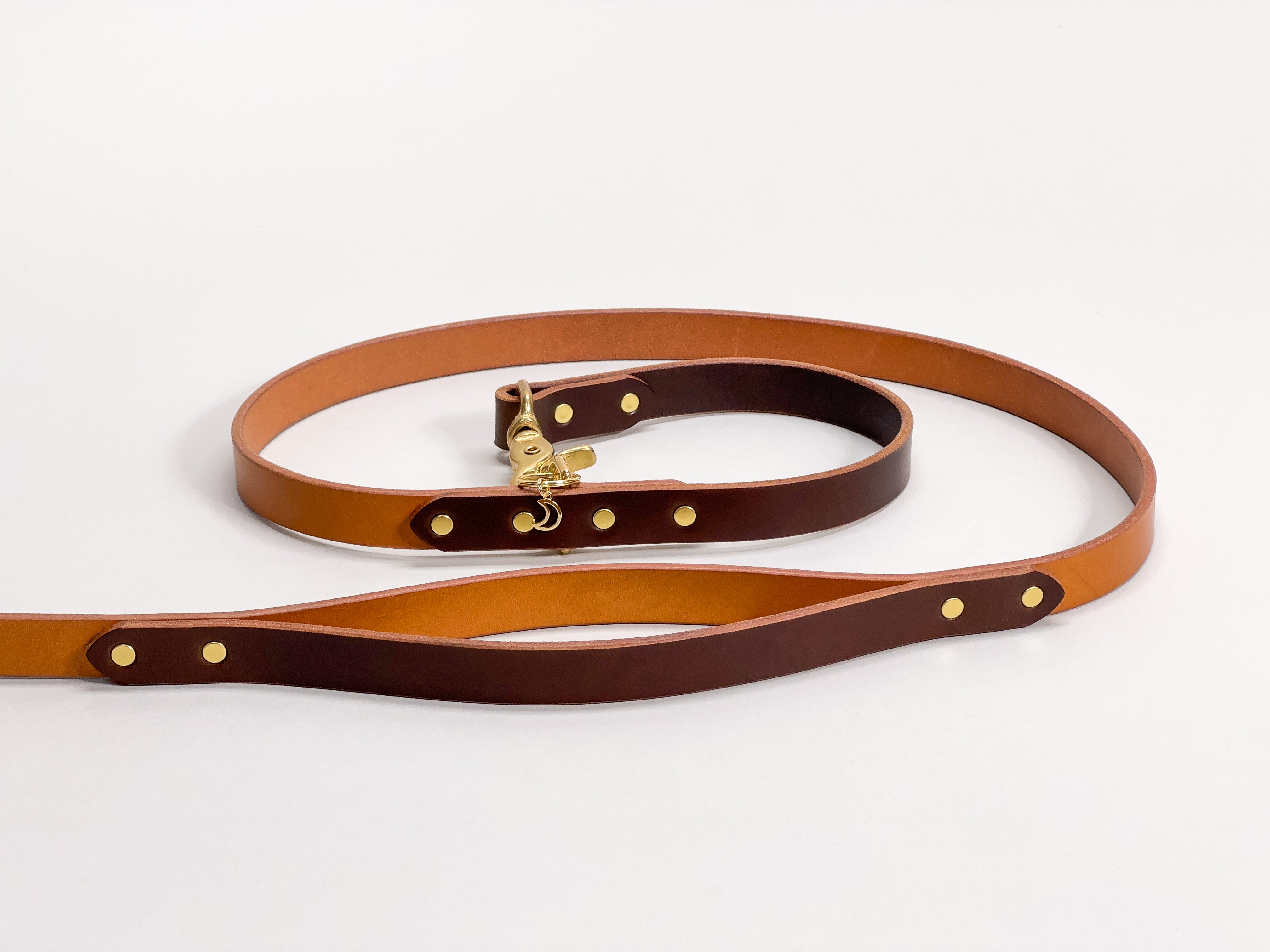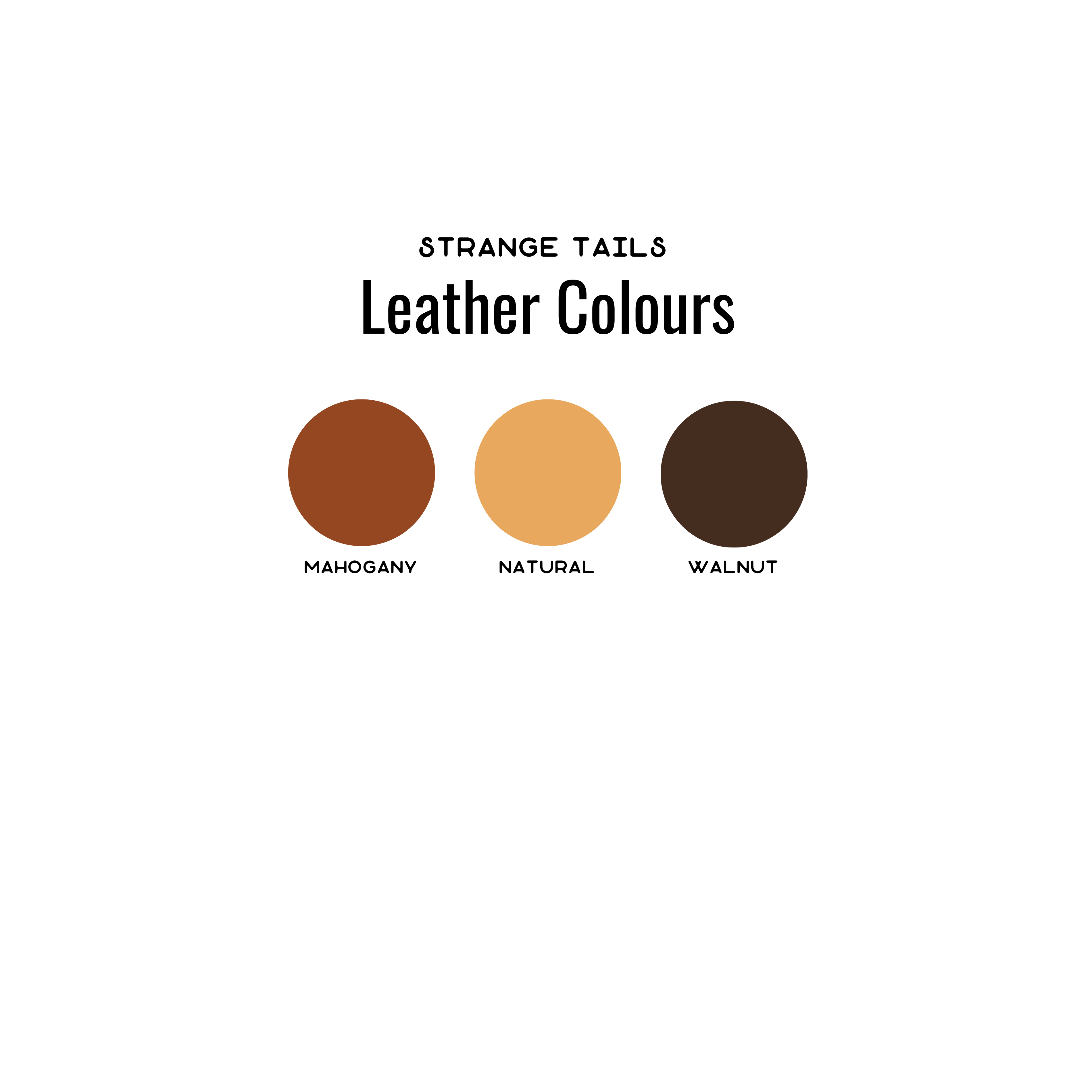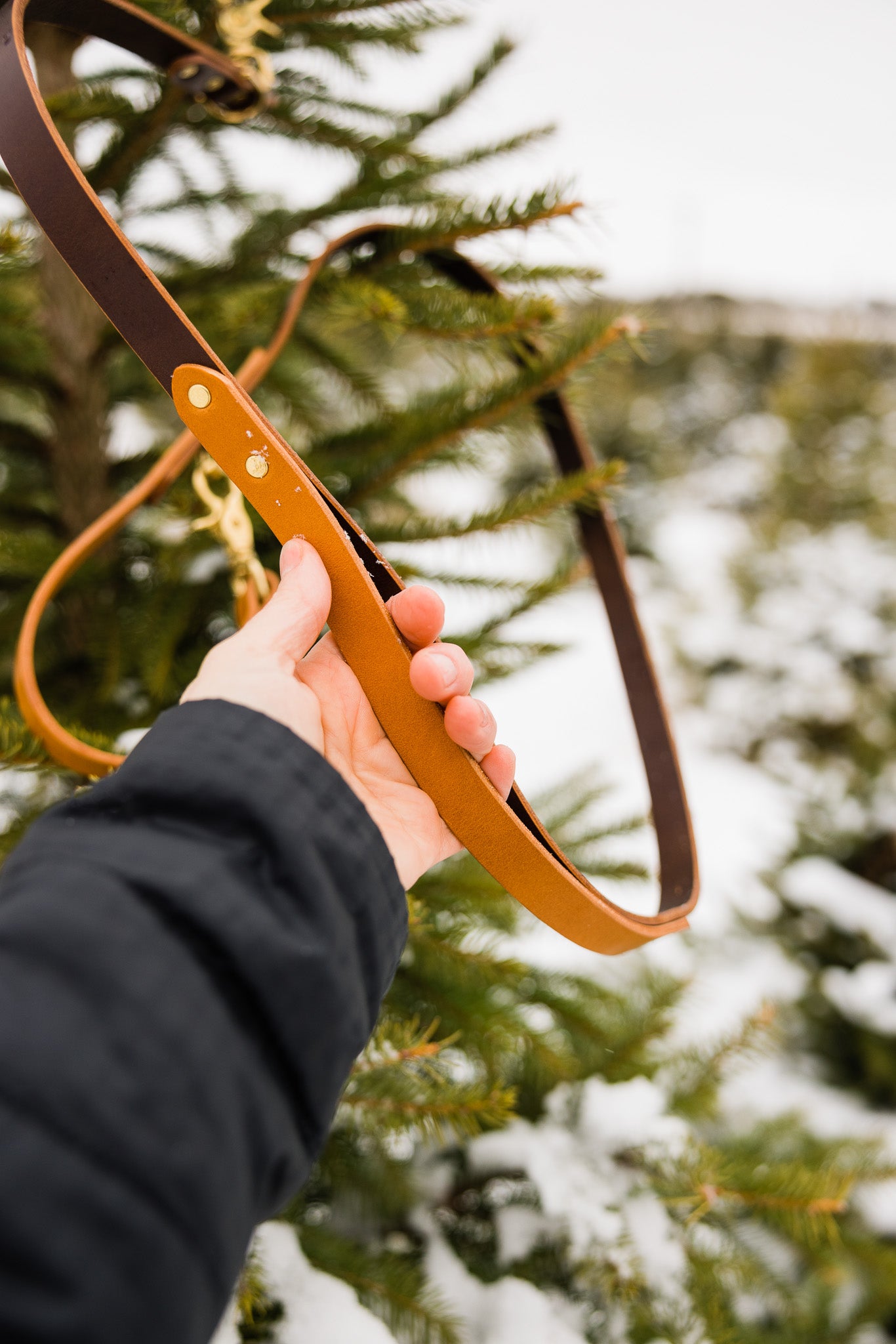 Leather Traffic Handle Leash
Description
Upgrade one of our classic leashes to include a traffic handle, for those times when you need to keep your dog close by! We offer two options for traffic handles:

High position (top of handle is approx. 28" from bottom of leash)
Low position (top of handle is approx. 18" from bottom of leash)
Please note: the colour selected for the handle of the leash will also be used for the traffic handle.
Plus, you can still take advantage of all of the versatility that comes with our classic leather leashes.
Our leather leashes are approximately 5ft in length with the handle clipped around the D-ring. Since leather is a natural material there may be slight variations in length and colour. There may also be minor imperfections in the leather from product to product.
We use solid brass and chrome-plated solid brass hardware, which won't rust over time. All of our leashes are finished with a Strange Tails moon charm to match your hardware selection.
Proudly handmade in our Vancouver, Canada studio.
About Leather
Our leather products are made using the finest quality full grain vegetable tanned bridle leather. Bridle leather was originally developed to make bridles for horses and is known for its strength, durability and the beautiful patina that it develops with age. Vegetable tanned leather is still tanned using traditional methods involving the 'tannins' from plants and tree barks, much the way it has been done for the last several thousand years. This process is a slow and painstaking art when compared to the modern methods of using chromium and harsh chemicals that can shorten the process from several months to just several days.

Only 10% of the worlds leather is still tanned using these old-world methods, but it is widely regarded as the best leather on the market. Additionally the tanning process does not pollute the environment like chromium tanning does. We are committed to both the quality of our products, and to ensuring our environmental impact is as low as possible, so using Veg Tan leather was an easy choice!

Every step of our leather working process is done by hand, including taking the extra time to bevel and burnish the edges of the strap. These are techniques that leave the cut edges of the leather shiny and smooth, making them very comfortable in your hands and against your dog's skin right out of the box. Before our leather products leave the studio, they are conditioned with mink oil for a boost of hydration.

Since leather is a natural material, no two products will be exactly the same and there may there may be some small imperfections in the material as well as variation in colour from product to product. Products that are made with Vegetable Tanned leather will be slightly stiff when first purchased. However, with time and use the leather will form a beautiful patina and darken, while at the same time becoming more soft and supple. This is a completely normal part of the aging process and what makes leather such a beautiful material to work with.
Care Guide
With just a little bit of maintenance, your Strange Tails leather goods will only get better with age.
We recommend conditioning your leather products with Mink Oil or a similar leather conditioning product every few months, or more often if desired.
If your pup goes swimming or your leather gear gets very wet, allow your gear to air dry away from a heat source. Exposure to water can cause your gear to darken more quickly and when new, can cause the leather to become slightly stiff. Gear that gets wet and dries out repeatedly can result in the leather becoming dry. If your leather gear gets wet often, condition the leather on a more frequent basis.
Solid brass hardware naturally oxidizes as it ages. It can leave tarnish marks against the biothane, especially on the lighter colours. 
To remove tarnish marks, we recommend using a magic eraser or a small amount of rubbing alcohol. Please ensure to thoroughly rinse your product with soap and water before using your gear again.
Leather Traffic Handle Leash
Love it!
Beautiful quality leather, so lovely to hold and matches so well with our hands free leash converter!