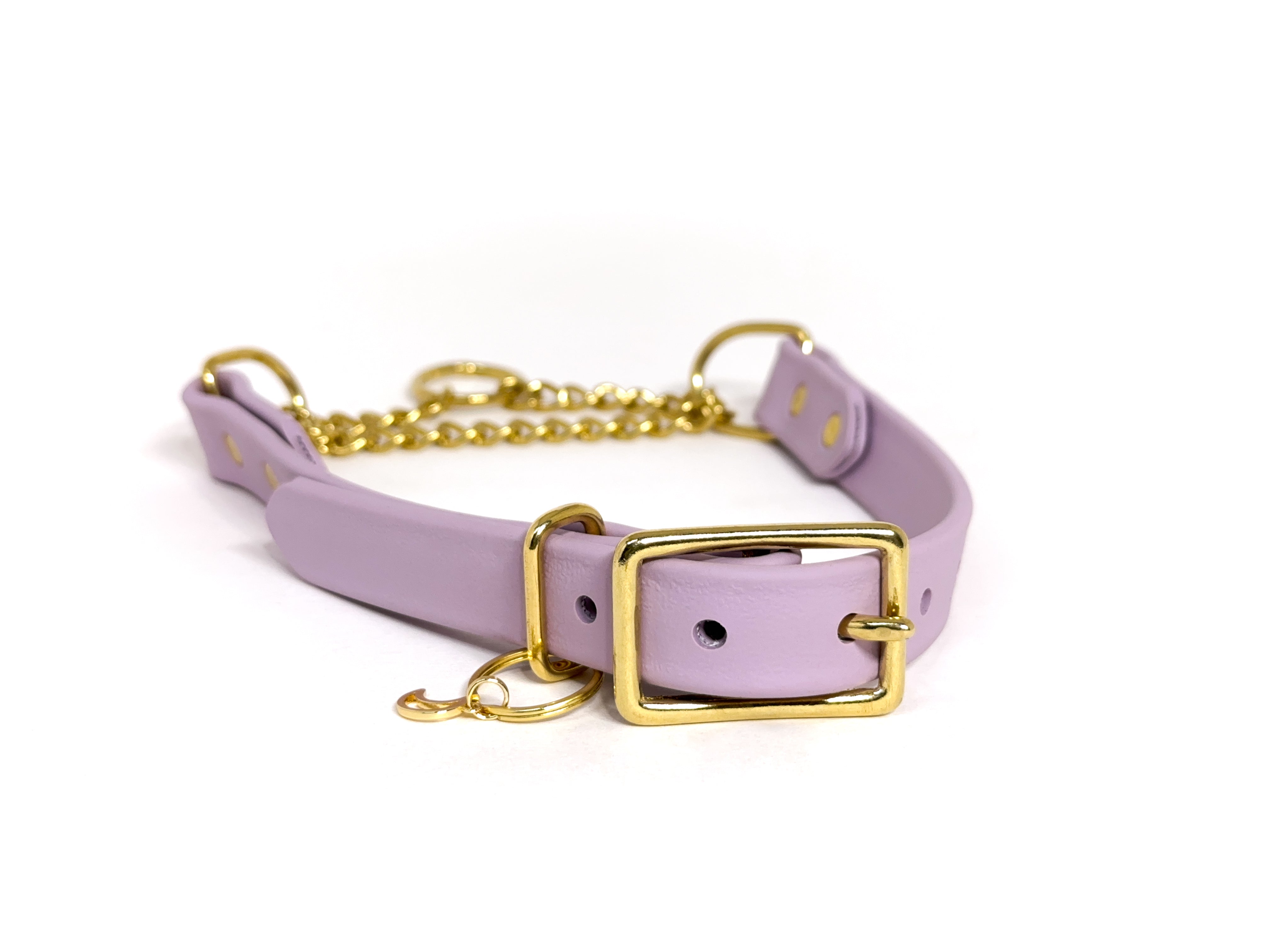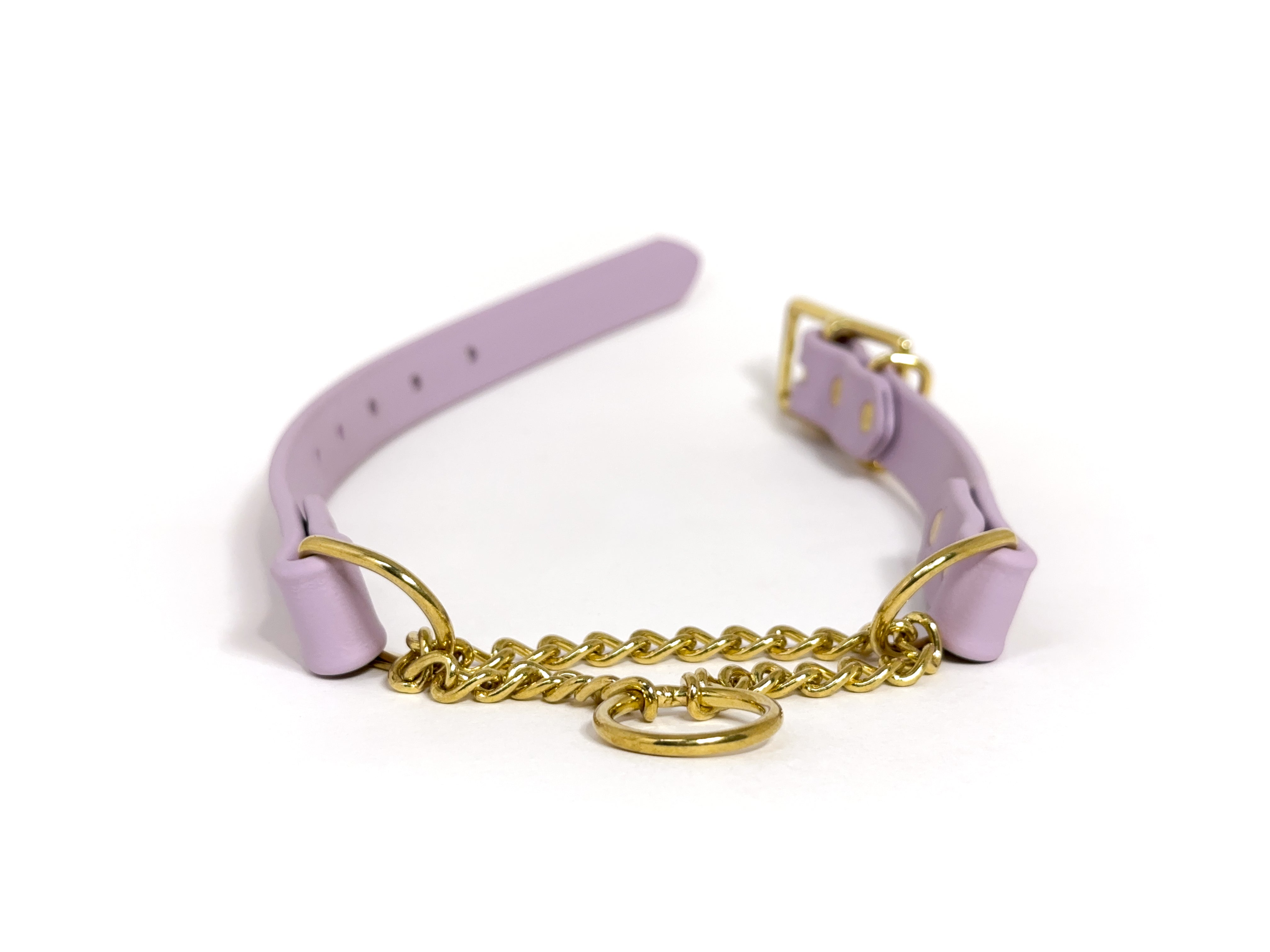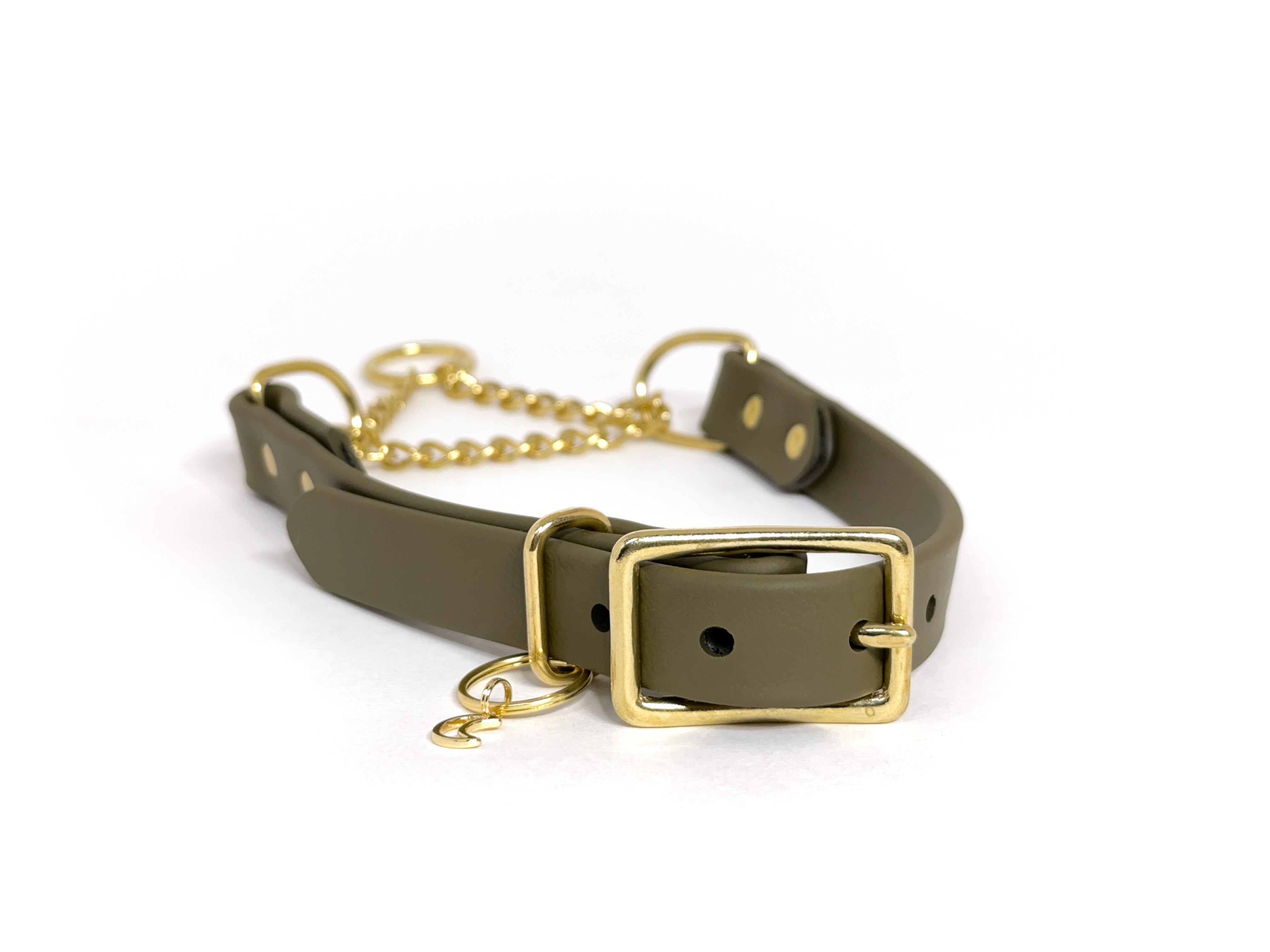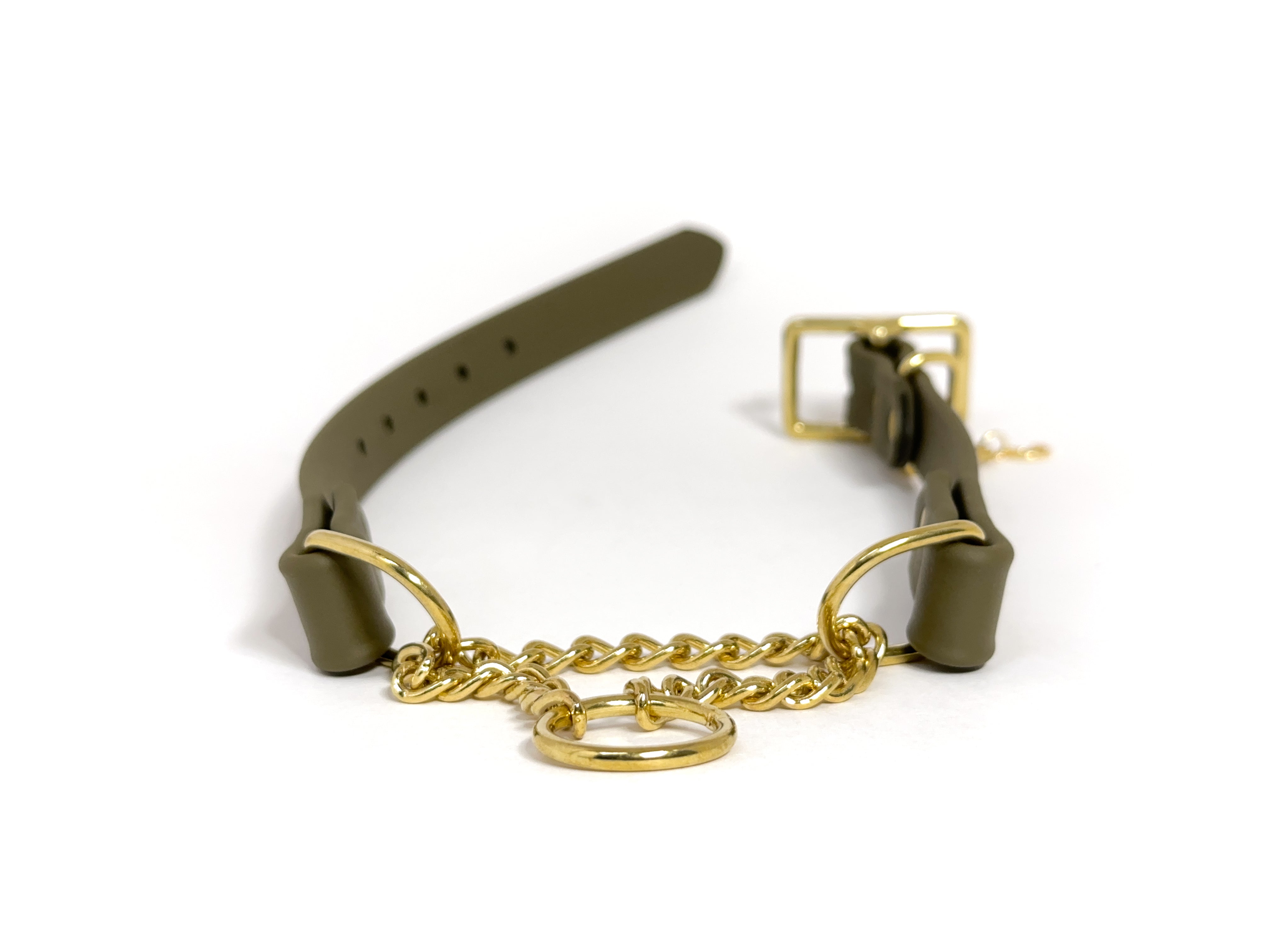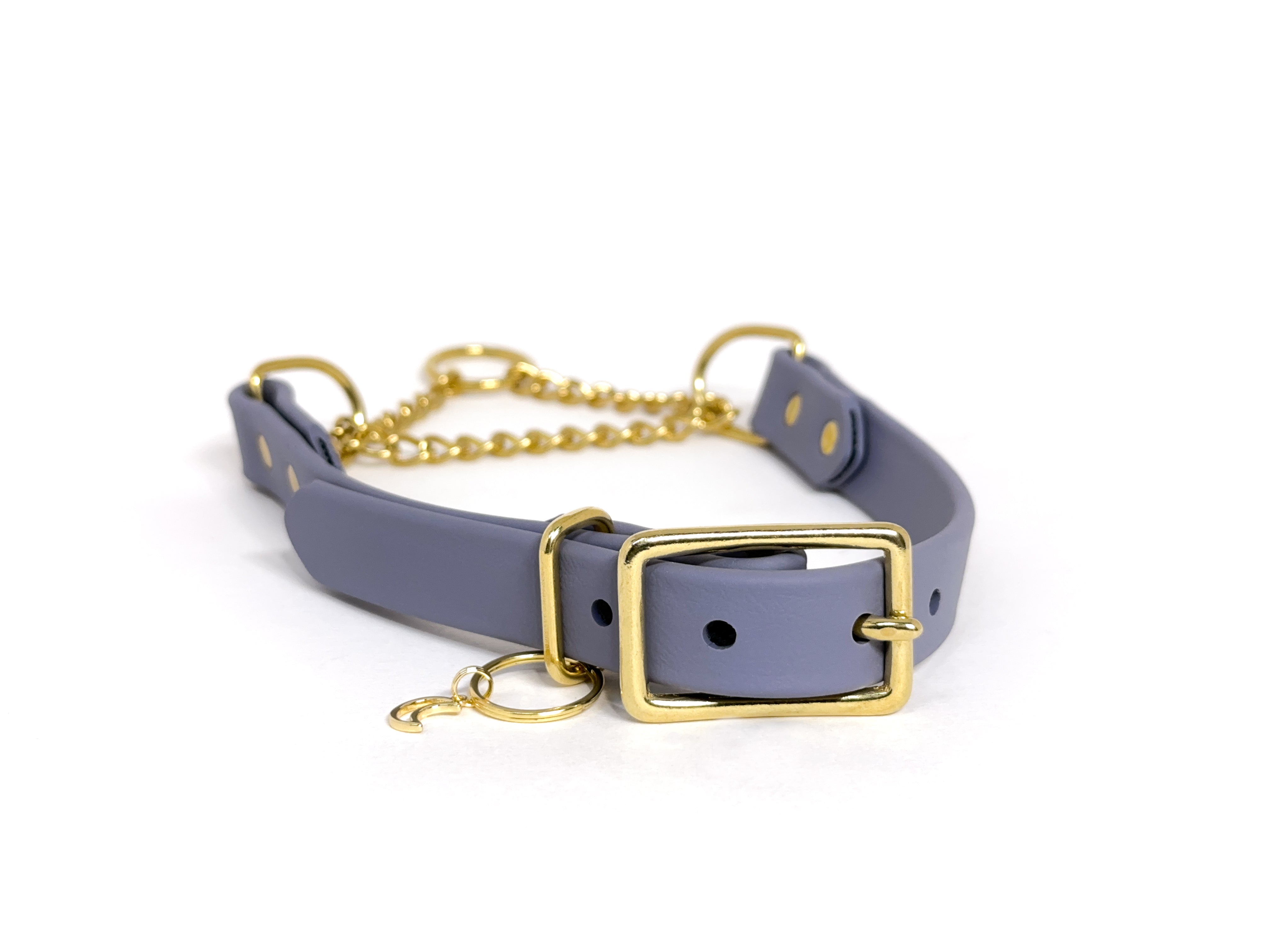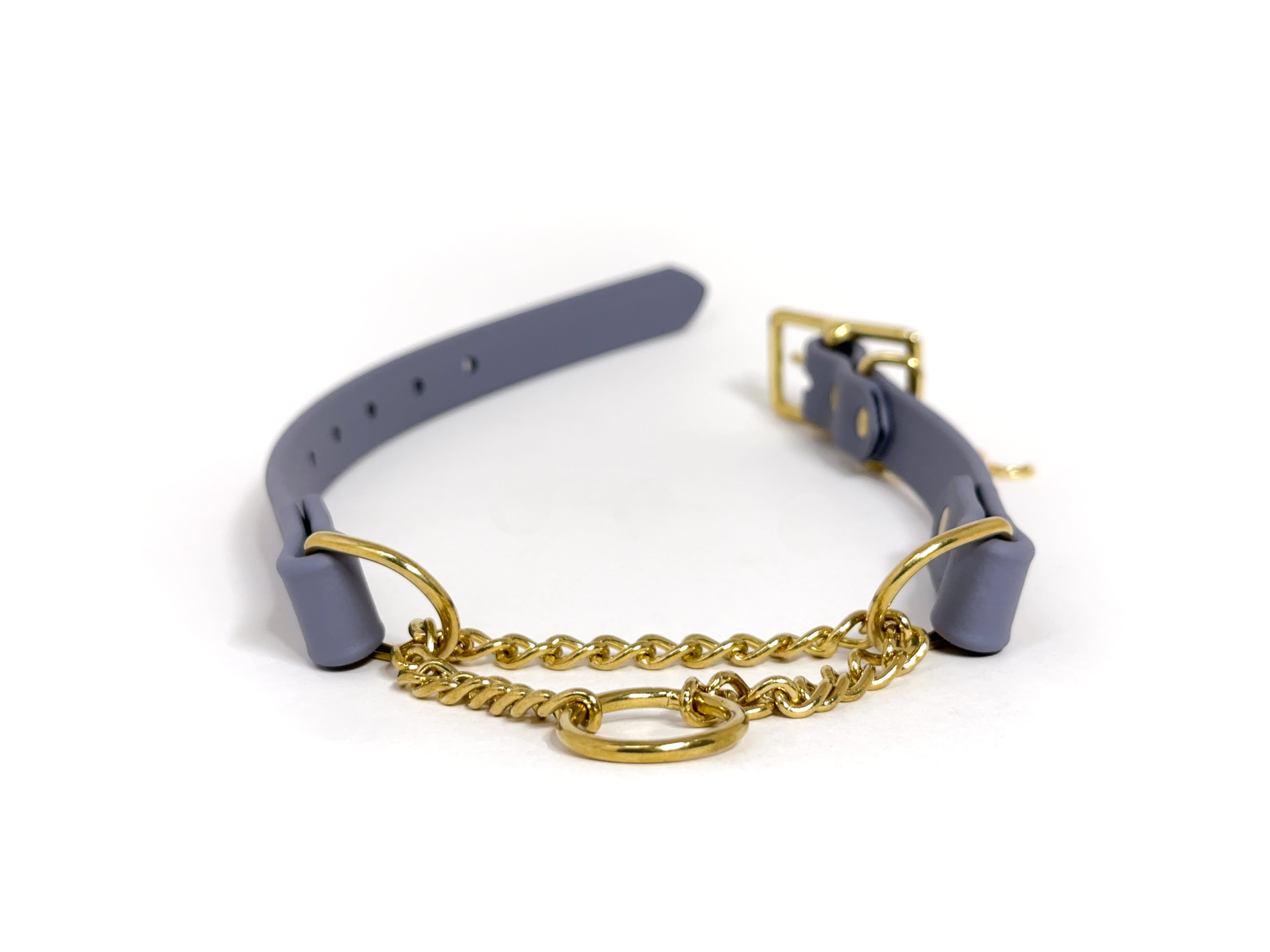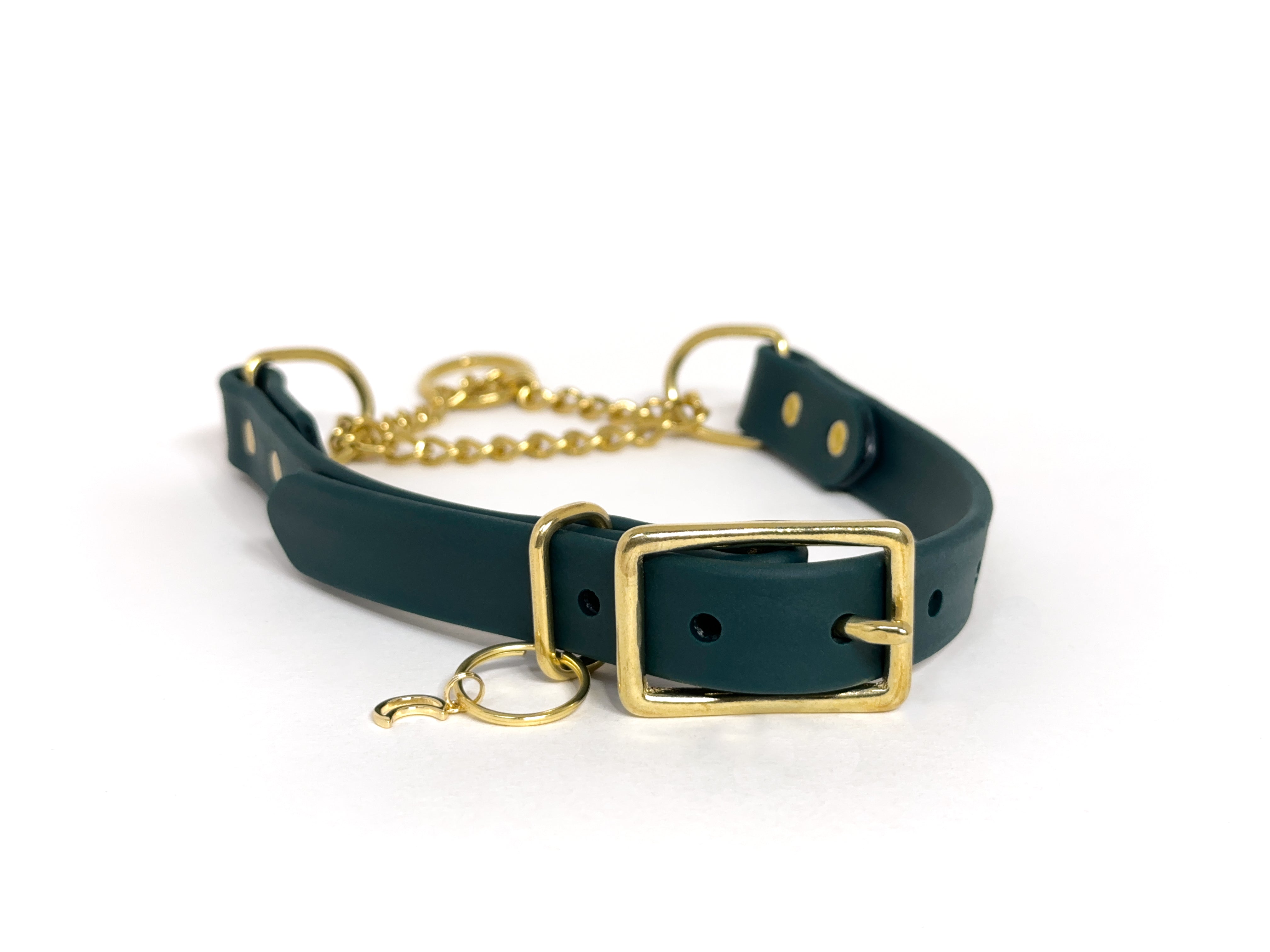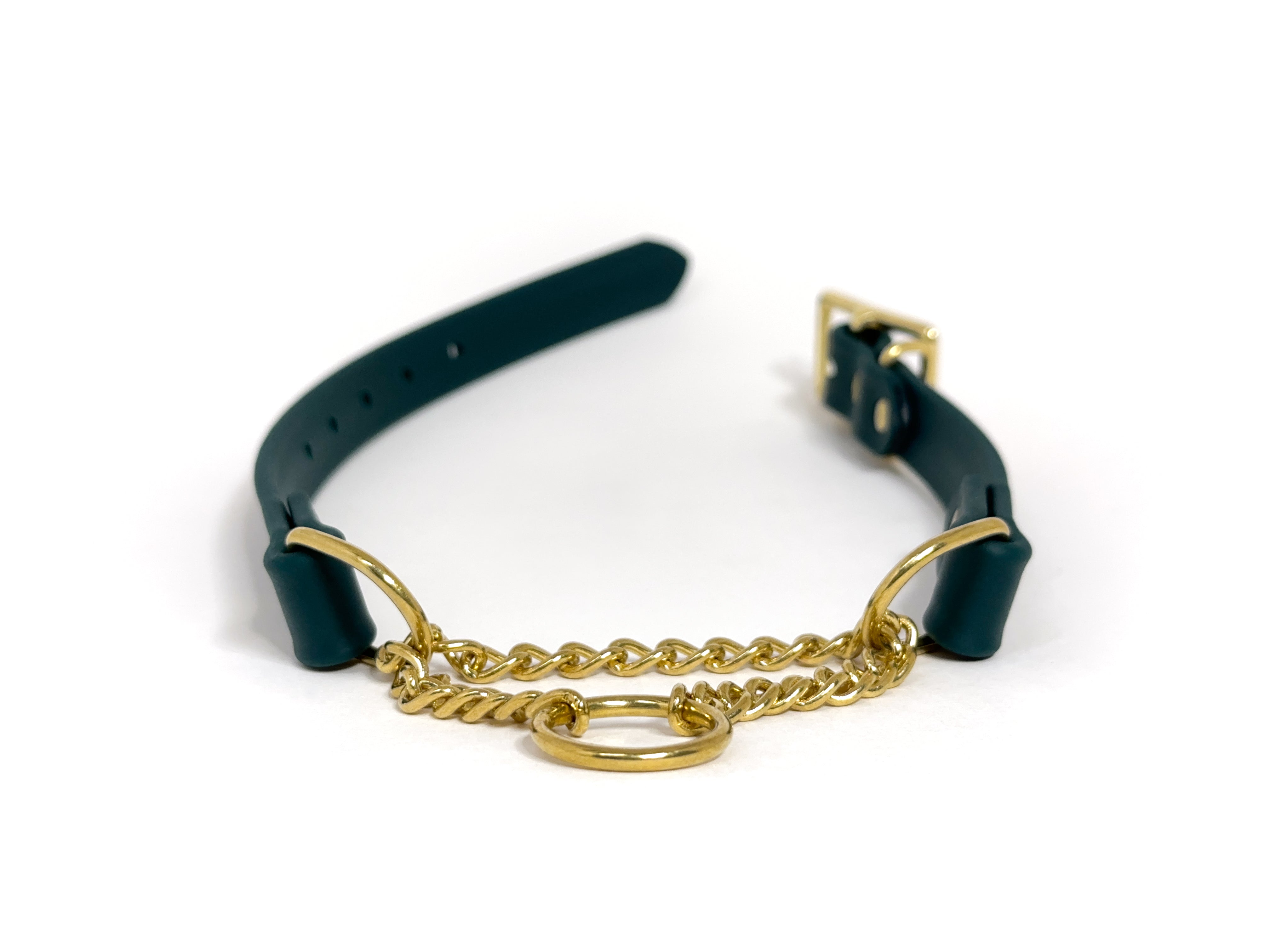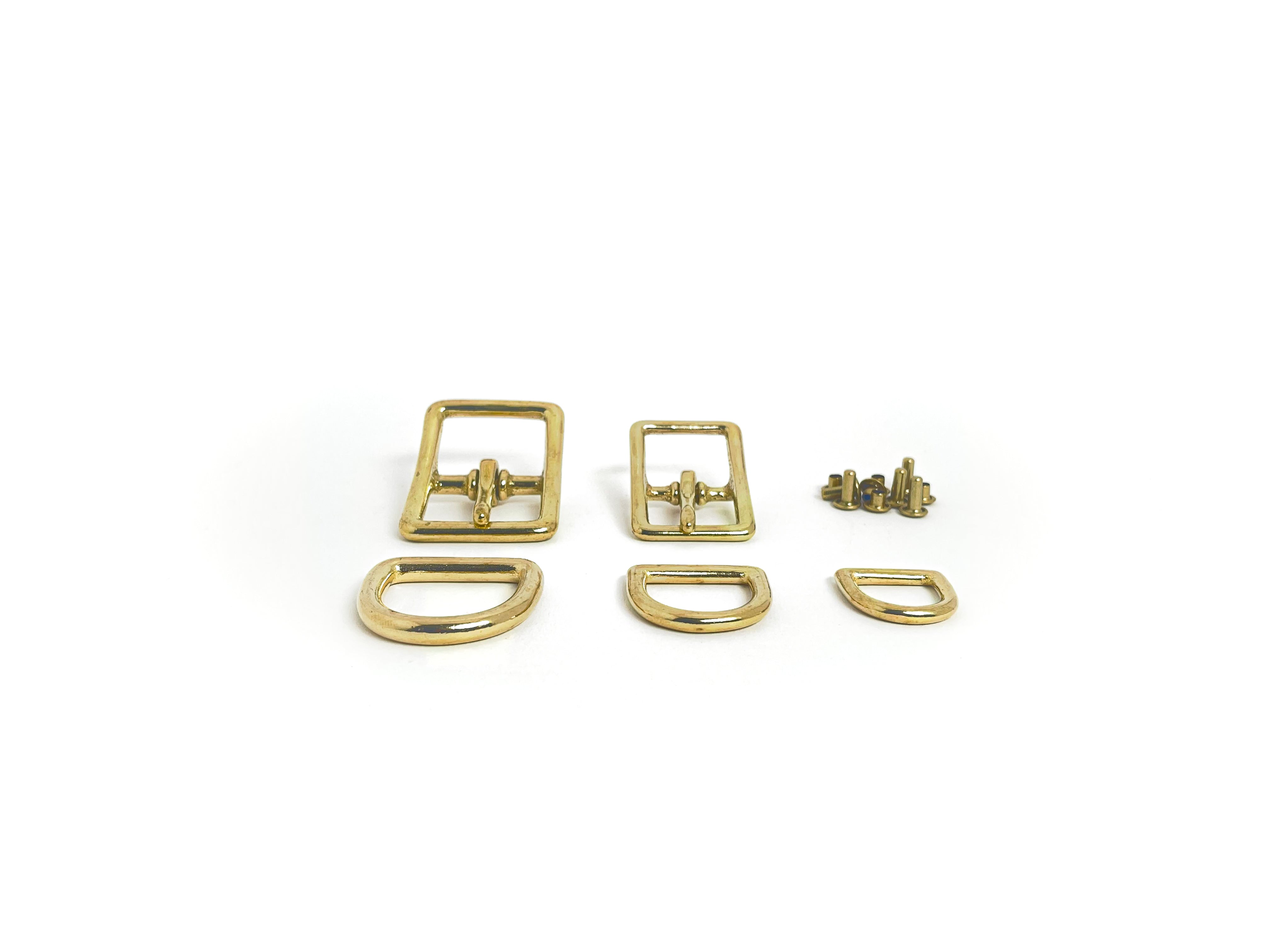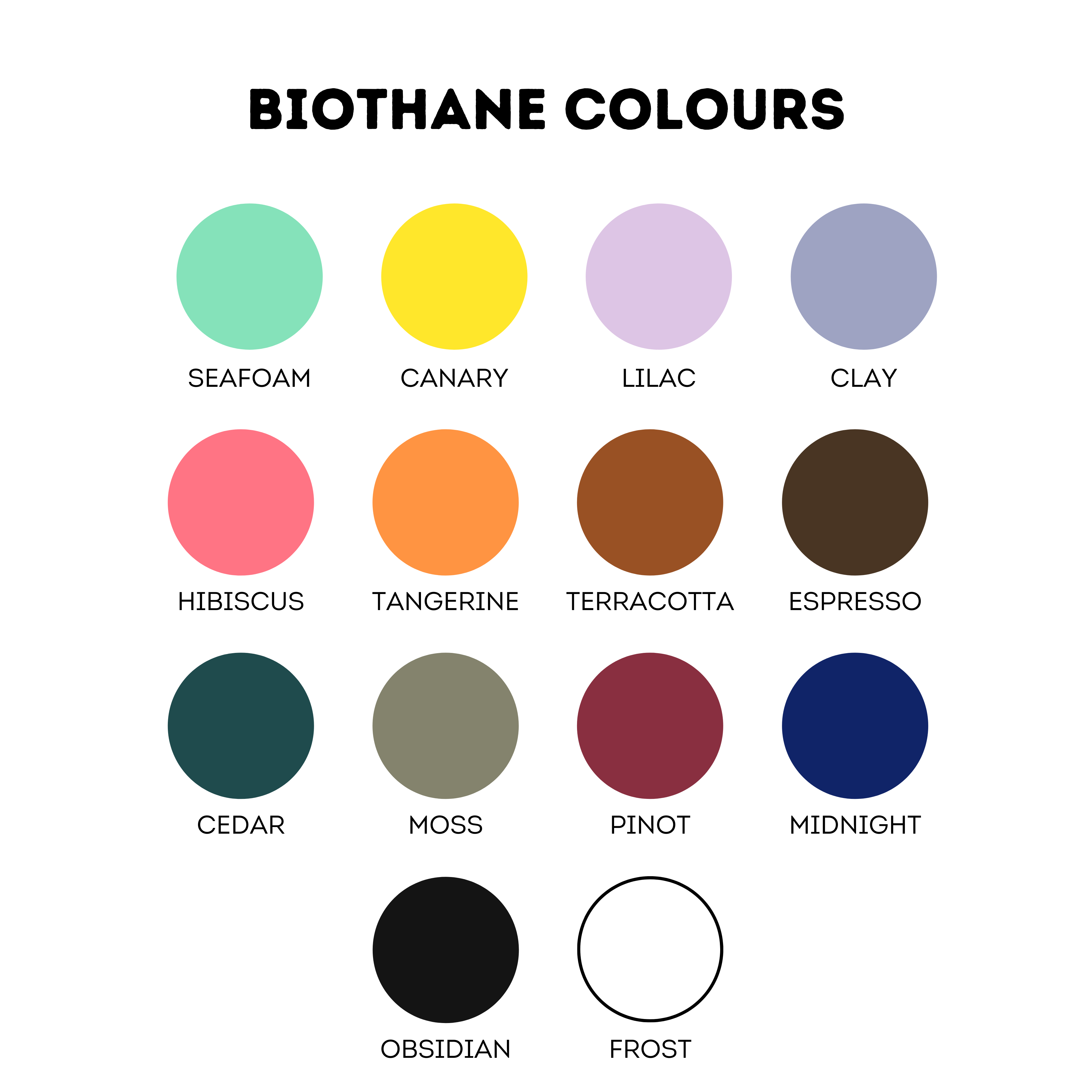 Biothane Martingale Collar
Description
Our Biothane martingale collars are ready for adventure! These collars feature solid brass hardware, including a buckle style adjustment mechanism with a low-profile strap keeper and martingale chain. 
Finished with a brass Strange Tails moon charm, our Biothane martingale collars are proudly handmade in our Vancouver, Canada studio.
Please note: The martingale chain is solid brass and will oxidize as it ages. Since the chain sits directly on the fur, please keep in mind that it may discolour the fur of light coloured dogs. Regular cleaning of the hardware with mild soap and a damp cloth can help to prevent this. 
About Biothane
Biothane is a coated webbing material that is strong, flexible and lightweight.
It's also waterproof, stink-proof, and stain-proof, making it extremely easy to care for and clean. This makes it our material of choice for pups that love to swim or get dirty!
We use the "Super Heavy" Biothane for all of our leashes, handsfree adapters and classic collars which has a substantial and luxe feel to it. Our adjustable quick release collars and martingale collars use the "Standard" Biothane.
Care Guide
One of the best things about Biothane is how easy it is to care for and clean. Simply soak your gear in warm soapy water as needed. You can use an old toothbrush to scrub away any stubborn dirt. Rinse away any remaining dirt and soap residue with clean water.
Solid brass hardware naturally oxidizes as it ages. It can leave tarnish marks against the biothane, especially on the lighter colours.
To remove tarnish marks, we recommend using a magic eraser or a small amount of rubbing alcohol. Please ensure to thoroughly rinse your product with soap and water before using your gear again.
While Biothane is easy to clean, it does still get dirty. Please keep in mind that lighter colours will show dirt and tarnish marks more easily, and will require more frequent cleaning to keep looking fresh!
Biothane Martingale Collar
Best Durable Collar
Love the quality and look of this collar. My husky loves playing in any water sprinklers he sees on our walks and getting in any body of water on our hikes so his collar is constantly dirty. His new martingale collar is easy to clean and has also been durable when he sees a squirrel or cat and it gets pulled when walking on leash. Bonus that the brass hardware makes it look classy and timeless. Love it!
Makes walks fun again!
I absolutely love the entire set, the color , the quality, and the overall convenience. Will be ordering a second set soon!
Green collar
I LOVE the collar I got for my girl! She's reactive towards other dogs so the chain really helps to keep her in check when I'm walking her. The material is perfect and so is the color. I'm in love with it!
Stunning collar
So well-made and beautiful, and I love that it's adjustable! I've purchased biothane martingale collars from other shops that weren't adjustable, and it became such a waste when Bella outgrew them (she was a teen pup at the time). I could have avoided that with shopstrangetails adjustable martingales! Such a genius design!
Great purchase!!
This martingale collar is very well-made and high quality. I love how sturdy it is and it's a great training collar for CoCo. I love the lilac color against her black coat. I take her collar off at night since she sleeps in her crate and the collar is easy to buckle. I bought this collar just to try the brand - now I'm ready for the full set including the long line! Invest - you'll be happy you did!